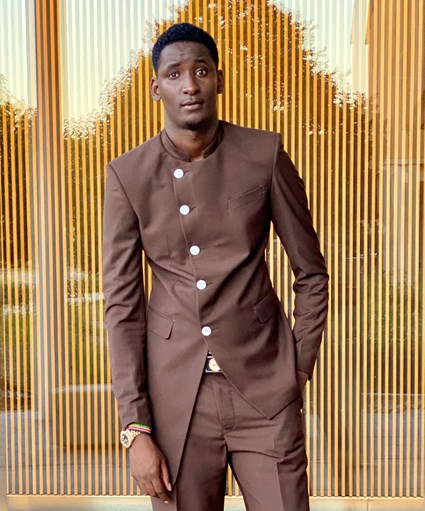 Pius Mithika is a senior majoring in finance and a scholar of the Financial Markets Institute in the Broad College of Business.
How does one dare to believe he can fly when all he's done is walk?

Across my study table hangs two portraits benevolently supported by the wall. One of them is a snazzy photo of me grinning cheerfully. I took it on August 8, 2020, the day I got a full-time offer to join BNP Paribas, New York, as an investment banker after I graduate from college this spring. The other one is a photo of me taken in Summer 2019 in Kenya speaking to an audience of over 2000 young people listening keenly.

I was lost for a moment while staring at them. It seems like just the other day, I was a little boy wandering in a village in Kenya wondering why other kids my age seemed to have life figured out while all I had as a total orphan was empty pockets full of dreams. Dreams that, despite the fact that I had a challenging childhood, one day I would be limitless and rise above the sky to inspire others. Dreams that at times seemed so big that I would be scared to tell my grandma, the relentless amazing woman who never gave up on me. She was my best friend.

Tell me, how could I have told her that I envisioned myself becoming the best student (academically) in Igembe North sub-county in Kenya Certificate of Primary Education when at that time I had dropped out of school for weeks because we could not afford to buy my school uniform? How could I have explained to her that I believed I would work very hard and one day I would put her on her first flight, sit next to her as we hark back the struggles we had been through together like making charcoal to sell so that I could get food.

Staring at those two photos on the wall reminded me of my journey to becoming the young man many people in my community look up to. One thing I am sure of, though, even before enrolling at Michigan State University, I was always a Spartan. It's the Will of a Spartan in me that propelled me to envision, believe and stay unabated and eventually receive a full scholarship to study at MSU. It's the same Will that has spurred me to endeavor to inspire those that are pursuing their dreams even as I chase mine. Whatever the circumstances, believe that Spartans Will. Go Green.