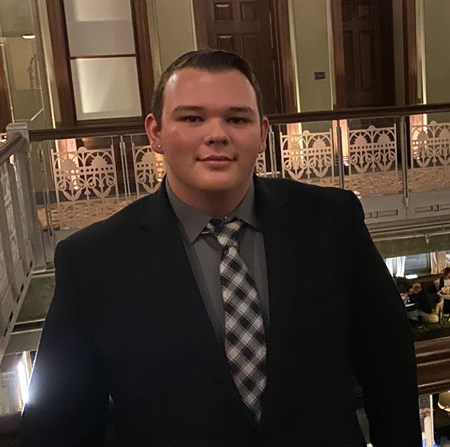 Bryan Castillo II is a senior majoring in hospitality business in the Broad College of Business and the vice president of the Michigan State Chapter of the American Hotel and Lodging Association.
The past year has been a whirlwind of emotions for everyone across the globe. Currently, the pandemic continues to affect poverty-stricken communities the hardest. For the School of Hospitality Business and the Michigan State Chapter of the American Hotel and Lodging Association, philanthropy is a pillar of what we do.
With AHLA's most recent philanthropy event, we chose to give back to the local Lansing community. As the executive board was brainstorming ideas, I was watching the Lansing news and saw donation stands set up around the community. The stands make it easy to donate more fresh foods than you would see in a traditional donation centers and, for people using them, it is as easy as walking up and grabbing what you want. No paperwork to see if you qualify; no red tape.
I was motivated to get AHLA involved through a virtual food drive. Planning this event had challenges because, like many other student clubs, AHLA has struggled with engagement in the current online format. But with some creativity, we came up with a social media fundraising aspect. Members felt more involvement and were able to see what their efforts were going towards.
Once all items were collected, I was in shock when I saw how the club was able to fundraise enough to fill the entire back of my SUV! While driving around filling the stands with our donations, I passed a man holding a sign who needed help. After walking up and talking with him and setting some groceries down, another person had pulled up and given the man some cans. While I was leaving, a car had rolled down its window and handed the man cash. I watched as he was staring in awe at everything in front of him and he said, "I haven't had a day this good in a long time." That is a moment I'm never going to forget.
Philanthropy is so special because it really does inspire people, showing how one action can mean a world of difference for somebody, not to mention, create a chain of events. I'm very proud of AHLA, and I hope that the direction the club is taking — to align with our parent organization's mission — will leave a great legacy and inspire future Spartans to continue thinking bigger and serving as a community resource.