Roxy Mashkawiziikwe Sprowl (she/they) is a sophomore in the College of Social Science majoring in social work with a minor in Indigenous studies in law, justice and public policy. A citizen of the Red Cliff Band of Lake Superior Ojibwe, Sprowl is a committed student-activist and a member of the Social Science Scholars Program, the Bridge Scholars and the North American Indigenous Student Organization.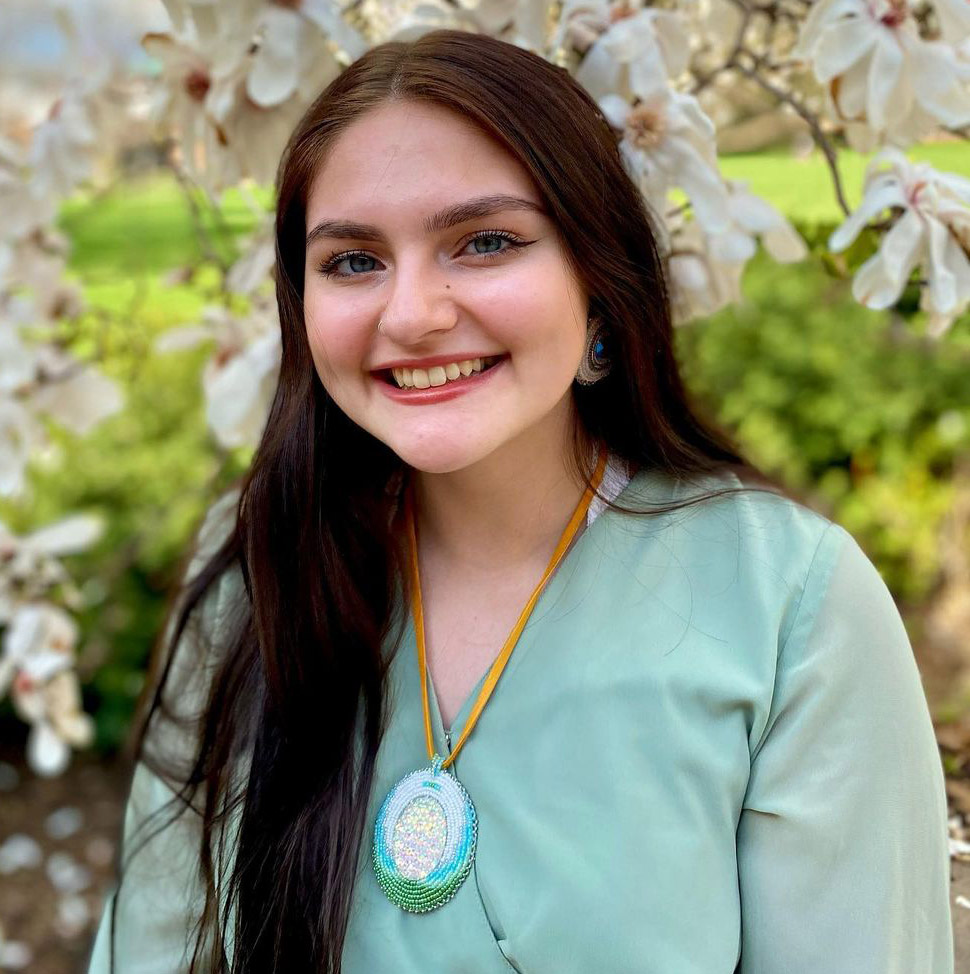 Everyone has their own reclaiming journey surrounding how they take back their identity as an Indigenous people but for me, it was and is important to learn my Anishinaabe name, clan, and start learning Ojibwe language. I grew up disconnected from my tribal community and reservation after I was placed with my non-Native family through the Indian Child Welfare Act.
When I was ready to begin reclaiming my identity, I talked with local community members, healers and some of my family members for guidance. Growing up disconnected from a piece of your identity can be extremely challenging. However, reconnecting with my community members, my ancestral lands, my language and my own self has helped immensely. One's reclamation and reconnecting journey is never ending; we are always learning — the start of doing so is incredibly important.
I'm currently leading a research project that is focused on exploring how people of color are represented in popular American history textbooks for high schools. This project is really grounded in racial reconciliation efforts, and the hope is that it will show the importance of teaching American history accurately.
To do this, we've taken a few different avenues. The former project lead, Erykah Benson, focused on analyzing the text and visuals included in the books, and we've built on that by comparing numerically how often people of color are represented in certain textbooks, versus what percent of the population specific groups actually account for.
This year through primarily visual analysis, we are taking a deep dive into how frequently these representations are racial caricatures, and if the publishers of the book acknowledge those portrayals as stereotypes.
This project is personally important to me because I grew up disconnected from my tribal community, and so it was damaging to me to not have an opportunity in school to learn any of my history. While I was learning my history through my family, what I was learning in school did not line up, triggering intergenerational trauma.
Another way I am working to reclaim and connect with my history is through NAISO, a campus organization for Indigenous-identifying undergraduate students.
I joined this organization my freshman year because I knew that it was going to be important for me to have a sense of community on campus. Since then, it's been a lot of fun, and I've really enjoyed creating all of the outreach flyers and social media posts to connect people to our organization. We host several events, such as film viewings, craft workshops and an annual Powwow of Love, and they are open to students who want to learn more about our cultures.
To read more about Sprowl's experiences, read the full story on the College of Social Science website.