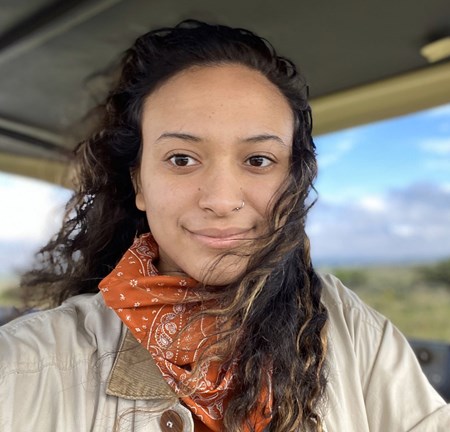 Aalayna Green is a senior majoring in zoology with a focus in conservation criminology and public policy in the College of Natural Science. This student view originally was featured on the College of Natural Science website.
My identity as a multiracial Black woman, specifically as a multiracial Black woman within conservation, is itself an act of rebellion.

For the majority of my adolescence, you could find me at the Detroit Zoo. I would spend hours strolling through the zoological grounds, carrying along identification manuals of far-off places as I attempted to learn everything I could about the wild animals. It was a no-brainer that I would become a conservationist as, along with the amazing facts of these animals, I also learned of the rising rates of extinction and habitat destruction. This information was readily available, but what wasn't available was the role that Black and Indigenous people played within this sector.

The emotional and intellectual labor from establishing my narrative within a space that tries so desperately to silence voices like mine is exhausting. Coupled with existing as a Black woman at a predominantly white institution, extra stressors are a nuisance to the well-being of my spirit. The need to supplement my education with further research, to find the scientists, the conservationists, the Black women who are within this space even if they are not in close vicinity, is an unexpected necessity. Names such as Hazel Johnson, Wagari Maathai and Margie Richard are lost in the white sheet that covers the conservation field.

A large encompassing element of conservation is the exclusion and extortion of Black and Indigenous bodies. The stories of Black and Indigenous people are excluded from staple texts of environmental studies, conservation and natural resources. Requirements for fieldwork such as temporary residence in rural areas and lack of compensation, indicate a barrier of access for Black, Indigenous and people of color, or BIPOC, scientists.

The notion of "last wild spaces" criminalizes the sustainable practices and the lives of Indigenous people who have lived harmoniously with the wildlife in those spaces; Black and brown people are routinely disregarded in favoritism of non-human animals' survival, namely the conservation of large predators by Western scientists who do not have to coexist with those species on a daily basis; and the upkeep of white supremacy and discrimination that exists within the space as a whole.

My identity as a multiracial Black woman in conservation is one that necessitates this need to establish my presence, my purpose, my belonging within this space. Through my science, I seek to emphasize the importance of conducting science with marginalized communities rather than for them. Understanding the complexities of human-environment relationships means that I cannot prioritize one over the other, as the two exist in tandem.

As I begin this next chapter of my story, of attending graduate school, I will carry with me the struggles I have burdened and use them to create inspiration for other young women who, too, have felt unwanted in this field. I ask that you evaluate your uplifting of BIPOC scientists, conservationists and students within your circles. What are you doing to be actively anti-racist? What are you doing to be a better ally? What will you do in 2021 to change the narrative?