Jennifer Chinchilla Perez is a third-year medical student at Michigan State University College of Human Medicine Flint Campus. She is planning to pursue family medicine as her specialty.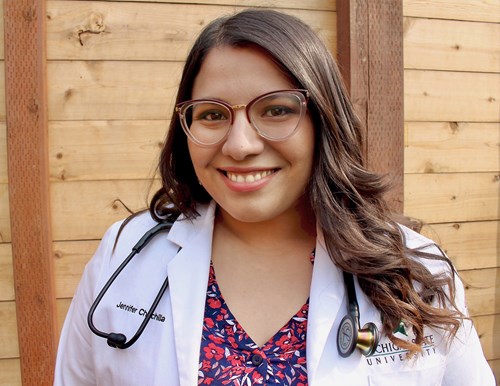 In my undergraduate studies at San Francisco State University, I remember my colleagues speaking about their studies on the neurophysical connections of the Manduca sexta (tobacco hornworm) or the susceptibility of anaxyrus baxteri (Wyoming toad). I admired their dedication, but even as a biology major I never developed the desire to pursue scientific research. Instead, I put my efforts into community service work and explored public health. I learned about the impact of social determinants of health and health disparities.
This new well of information pushed me to reflect on my own upbringing. As the daughter of Guatemalan immigrants, I grew up interpreting school, immigration, and medical information for my parents. I remember one incident that took place in the emergency department. My mother was being treated and the staff looked to me and explained her health to me in English, assuming I would convey the message back to her in Spanish. This had always been our normal, but upon reflecting, I realized these language barriers could lead to decreased health outcomes. Once in medical school, I used my personal experiences to drive the research and community work I participated in. This led to my involvement in Lost in Translation: An OSCE-Based Workshop for Helping Learners Navigate a Limited English Proficiency Patient Encounter.
Our project was led by Dr. Jan Fune, a pediatric fellow at Spectrum Health Helen DeVos Children's Hospital. The team included medical students from Michigan State University College of Human Medicine and individuals from the following Spectrum Health Helen DeVos Children's Hospital departments: quality improvement, language services and the pediatric residency program. Based on our initial discussions, we learned that pediatric residents had deficiencies when using language services, but had the desire to improve them. We used the deficiencies found and, as a team, developed our workshop.
In brief, our three-hour workshop consisted of a panel discussion, a best practices presentation led by the language services department and a video demonstration. Ten pediatric residents participated in pre- and post-workshop objective structured clinical exams (OSCEs). Our OSCE's included a standardized patient with limited English proficiency playing the role of the child's parent and an actor portraying a friend, both fluent in English and the parent's native language. Both OSCEs were observed and scored using a 16-item yes/no checklist to measure the impact of the workshop. In our pre-workshop findings, seven out of 10 residents attempted to use the actor portraying the friend to convey the message to the parent before asking for a professional interpreter, just as I had experienced with my mother. In our post-workshop findings, all 10 residents requested an interpreter instead of asking the friend to facilitate. This was just one of the positive outcomes of our workshop.
Now that our workshop is published in MedEdPORTAL, residency programs, health systems and health professionals can begin to use it as a tool to improve the relationship between their interpreters and health care providers. Further, this workshop has the potential to improve the quality of care provided to patients with limited English proficiency. I hope that my story can encourage other students to use their life experiences and passions to drive their academic work
Banner image: (left to right)

Chineze Mbanugo, Jennifer Chinchilla Perez, Jan Fune and Allison Hoppe. Photo taken Oct. 13, 2019, pre-pandemic.