John R. (J.R.) Nosal, secretary-elect of Sustainable Spartans, is a senior studying environmental geosciences with a minor in environmental and sustainability studies in the College of Natural Sciences.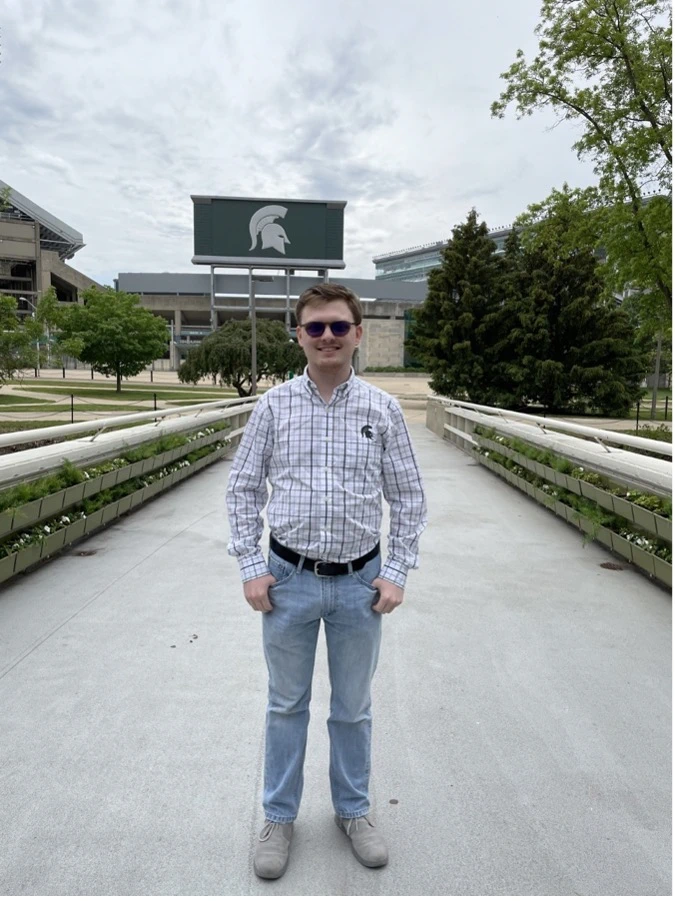 Project founder and technical manager J.R. Nosal next to the green walls.
In November of 2019, the Green Space Initiative started off as just an idea. It was an idea to incorporate healthy new plant life somewhere on campus. I thought that adding unique green spaces somewhere on campus would be a simple and exciting effort for beautification. Green spaces would be an excellent way to decrease MSU's carbon footprint as a demonstration of a climate change mitigation project. My idea evolved into research and discussions with various individuals on campus to further design what could become an extraordinary project.
Then, in March of 2020, the COVID-19 pandemic hit. I was at a crossroads. Should I give up an innovative idea or effectively start over by reaching out to other Spartans? I decided not to lose hope by pivoting to further develop this proposal with the club Sustainable Spartans and the Office of Sustainability (OOS). The moment these two groups graciously adopted this concept of integrating a green urban design is one that I will remember for the rest of my life.
It started a process where I not only made new friends, but also one that I could participate in something bigger. Throughout the coming summer months, our small, but growing, team reached out to over twenty subject matter experts across multiple disciplines. We considered incorporating green spaces in the dorms, adding preserved moss artistic designs throughout university buildings and other variations of a campus green space. By the start of the 2020-21 school year, we decided to work towards incorporating a vertical garden system called a 'green wall' somewhere on campus.
---
Jarrod Griffus, vice president-elect of Sustainable Spartans, is a senior studying biochemistry and molecular biology in the College of Natural Sciences.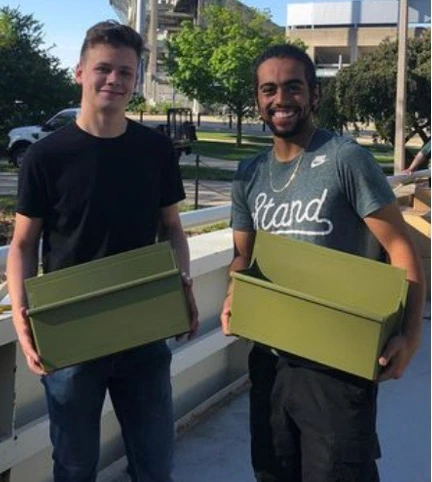 Co-leaders Jarrod Griffus (left) and Kevin Hayes (right), during the installation of the green walls.
I have had the pleasure of co-leading this initiative with Kevin Hayes. After J.R., the project founder, proposed this innovative idea to Sustainable Spartans, we formed a small group of seven students called the Green Space Team. This team consisted of the three of us, along with two green wall designers, a videographer and a public awareness coordinator.
Through collaboration with OOS, we were able to apply for funding from MSU's Infrastructure and Planning Facilities. IPF was gracious enough to award our team with $16,000 to fund this initiative. From that point on, the Green Space Team, OOS and IPF spent months collaborating until two large green walls were installed on the pedestrian Library Bridge near Spartan Stadium on May 18.
I am incredibly proud of this group of students for persevering through all the challenges we faced during this experience.
---
Kevin Hayes, president-elect of Sustainable Spartans, is a senior studying political science on the pre-law track in the College of Social Sciences.
The Green Space Initiative is a unique project in the sense that it serves multiple purposes and excels at each of the goals it was designed to reach. At face value, the green walls add beauty and distinction to an otherwise lacking area of campus. Additionally, the green walls do an excellent job of bringing attention to the importance of sustainability and present a creative and innovative way to help mitigate climate change.
Furthermore, the green walls demonstrate that the university is upholding two missions that it takes very seriously. First, it is making groundbreaking progress with an increased awareness of the importance of sustainability in people's everyday lives. This effort is serving as a strong model for other universities in the Big Ten Conference and across the United States to follow. Secondly, this project shows that Michigan State University is fully committed to supporting its students with all the resources necessary to plan, process and produce the effective changes that they want to see on campus.
As a pilot project, I am ecstatic to watch the green walls fulfill all these purposes and justify the need for many more green walls on campus for a collective substantial impact. Despite the incredible difficulties we faced, I am utterly amazed by the amount of passion and investment that was present throughout the entire project from every team member. I look forward to putting the experience and knowledge I have acquired from this project towards future endeavors on campus and beyond.