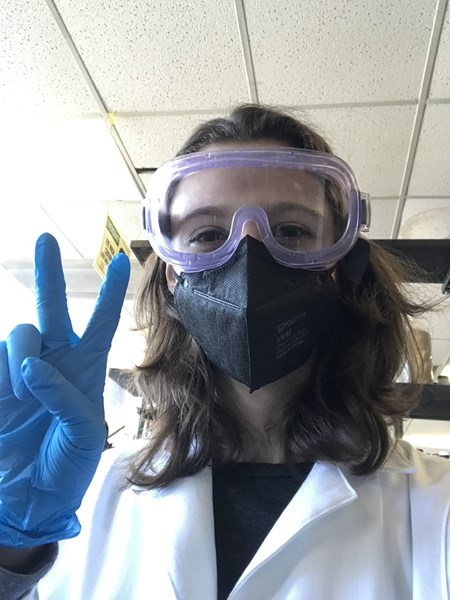 Alexandra Korabiewski is a junior majoring in biochemistry in the College of Natural Science and music performance in the College of Music. She is also a College of Natural Science Dean's Research Scholar. This student view was originally featured on the College of Natural Science website.
Unlike most of my fellow pre-med students, my journey as a Michigan State University Spartan began at the College of Music rather than the College of Natural Science. As a teenager, I fell in love with the orchestra. It provided me with the wonder and sense of belonging that I thought I'd never find in science. In truth, I became discouraged from pursuing my dream of becoming a physician toward the end of high school, when I felt overwhelmed by the academic competition from my peers. I was lucky enough to be accepted into the College of Music at MSU and decided that I wanted to explore my love for the French horn and see if perhaps a career in the orchestra was better suited for me.

During my first year of juries, recitals and endless practice, I passed by a bulletin board in Yakeley Hall featuring a four-way Venn diagram that had the word "career" in the center surrounded by words such as "passion" and "fulfillment." I realized that putting musician in that diagram didn't satisfy all the individual components, but doctor did. As silly as it sounds, that poster helped me realize that my dream of being a doctor was still there. So, I decided to take on another major in STEM and set my sights on what I knew in my heart I wanted to be.

A year later, during the first week of my sophomore year, I met Krystyna Kijewska, a chemistry instructor who absolutely changed my life. She reignited my love for science and helped me overcome the insecurities that kept me from pursuing my dreams. She introduced me to Gary Blanchard, an analytical chemist whose group she had completed her post-doctoral research in.

The first day I met Blanchard he asked me if I knew how anesthetics work. I said that I wasn't sure, and he responded, "Good! Neither do I!"

My project for the past two years has been an effort to try to answer that question — at least somewhat. The goal is to gain a better understanding of the chemistry of plasma cell membranes, the parts of our cells that facilitate cell-to-cell communication and selectively permit substances in or out. Blanchard's lab specializes in spectroscopy, the science of using lasers to study the structures of molecules. Linking these two together, I make model membranes by pushing phospholipids through something akin to a nanoscopic bubble blower, then I use super sensitive laser systems to measure the tiniest changes in the chemistry of these membranes.

I don't think I can fully express how grateful I am for my research experience at MSU. The Blanchard group has become like a second family to me and the chemistry building like a second home. Even though it will be a small contribution, I know that my research will help other scientists better understand the nature of cells. In addition to all this, I've been lucky enough to become a Dean's Research Scholar allowing me to share my story with people from MSU and beyond.