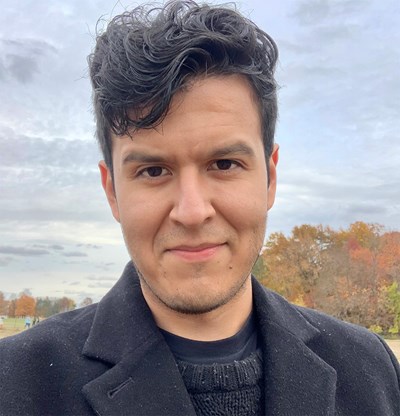 Omar Alejandro Posos-Parra is a graduate student studying entomology in the College of Agriculture and Natural Resources. Posos-Parra hails from Zapopan, Jalisco, México. The following is repurposed content from the Department of Entomology website.
What are you researching?
My research is primarily concerned with understanding and deciphering how fall armyworm (Spodoptera frugiperda) resistance to pesticides develops from a biochemical and genetic perspective and its inheritance of resistance. I am very fortunate to work with a particular fall armyworm colony from Puerto Rico, the cradle of the biotech seed breeding industry. According to PRABIA, 80% of biotech seedlines used worldwide have to stop in Puerto Rico for a nursery process. My work continues a great project born in 2013-2014 at Mota-Sanchez's lab. The fall armyworm is a pest of economic importance worldwide. Its recent migration to the Eastern Hemisphere has had tremendous economic impact. It adapts to different environments in a short time and is expected to become one of the five pests with the most significant impact worldwide in the coming years.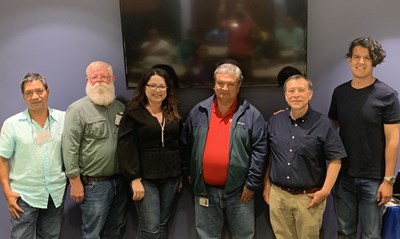 Posos-Parra with seed industry members in Salinas, Puerto Rico.
Where have you traveled and what have you liked best about international studies and research?
My graduate studies at MSU have given me the opportunity to attend a meeting in Salinas, Puerto Rico, along with members of the seed industry. I've enjoyed speaking English and would like to speak another language, like Portuguese. I enjoyed working as a team, and communication is essential to have good results and resolve any doubts or conflicts that may arise.
You drove to MSU from Mexico — what was that experience like?
After I graduated from college, I started working at my parents' company, Conviviendo con la Naturaleza (Living with Nature). My daily routine was to drive 4-5 hours to attend efficacy trials in different parts of the country. I have always enjoyed driving, and when I received the email from graduate secretary Heather Lenartson-Kluge and department chair Bill Ravlin that I was accepted into MSU Entomology's Ph.D. program, I asked myself, "How much time would it take to drive from my home to East Lansing?"
I saw driving as an excellent opportunity to do something different and memorable. I talked to my parents and, even though they were not entirely sure about it, both helped me. My dad has a good friend who lives part-time in Los Angeles, and he offered to help me with driving. We started on a Thursday at 5 a.m. and arrived at MSU on a Saturday night. The trip was beautiful; we had the opportunity to see the change of season from Guadalajara to East Lansing. We even crossed part of the desert in Mexico and, hours later, we were around snow. I came here in early December 2018 and thought we were lucky we did not have any trouble with snow. There could have been snow on the highway or a snowstorm, but the trip was super smooth.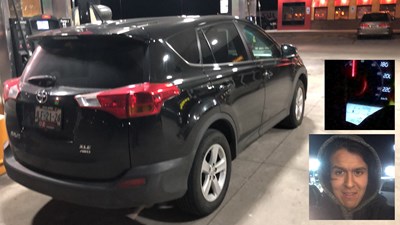 Posos-Parra experiences wearing a coat with a hood as his car's dashboard shows the temperatures falling well below freezing.
It was my first time living with temperatures below 32 degrees Fahrenheit. The temperature outside was 80 F when I began the journey. When it ended, it was 16 F! Imagine my face — the weather was super different and obviously new for any jalisquillo/tapatio (what you call people from Jalisco).
When I tell my story, some people do not believe me or tell me that I was crazy, probably because we made the trip in a hurry and drove through the night without a stop. I would like to make a similar trip on my return to Mexico, but this time take one to two weeks to travel around and visit some friends and places.
Why study entomology?
I decided to study entomology when I was in the middle of my professional career in biotechnology. My primary intention has always been to dedicate myself to pesticides, toxicology or parasitology issues. However, keeping in mind that I wanted to do a Ph.D. in entomology always motivated me to do my best, and here I am. I have been interested in insects from a very young age thanks to my parents. My mother is a biologist and my father is an agronomist, a parasitologist, so they taught me from a very young age about science and nature. Ironically, my dad also did similar studies during his Ph.D. on the resistance of June bugs (Phyllophaga ravida). I remember living around a lot of June bugs when I was little when my parents carried out colony samplings in infested cornfields.
What is your favorite activity or responsibility as part of your graduate studies?
I really like doing dose-response studies and analyzing the data. Taking care of colonies is nice, too, but it is very time-consuming!
What is your favorite insect, and why?
The June bug (Phyllophaga ravida) because it reminds me of the beautiful moments I had in my childhood, and it will always connect me with my parents.
What is your favorite way to spend your time outside of your studies?
I really enjoy dancing, singing, reading, cooking and going out with my family or friends to see new places. I enjoy being in the field and studying the biological effectiveness of pesticides.
As a student during a global pandemic, what is something positive you found in the past year?
I would stick with a quote from Antonio Gala, "Happiness is realizing that nothing is too important."