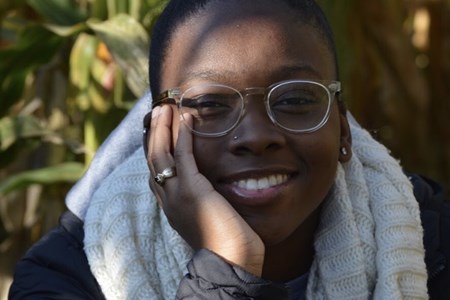 Demetria Bias is a third-year student in the MSU School of Journalism. She serves as the president of the MSU Chapter of The National Association of Black Journalists.
On December 19, 2020, the Michigan State University Chapter of The National Association of Black Journalists was presented with the Student Chapter of the Year Award. As the current president of the chapter, I could not be any prouder of my team, but I like to call them family. Each and every one of us is an important part and contributes to the organization as a whole. Teamwork is one of our core values, and I truly believe it is one of the reasons why we received this award.
As soon as I stepped foot on the campus of Michigan State University, I looked for a student organization that not only supported my dream of becoming a journalist but who also understood the obstacles I would have to overcome because of my skin tone.
I attended the ComArtSci Fair fall of 2018 and was introduced to many organizations that produced content and worked with their members. I respected all of those organizations but they did not stick out like the melanated students smiling in the crisp, white dress shirts. I walked up to their table, confident and very enthusiastic to meet the executive board, and they were so nice and welcoming. A couple of the executive board members asked me what exactly I was interested in when it came to journalism and showed me how their organization had connections to internships that would help me achieve my goals.
When I attended their first general meeting of the school year, I met other students who looked like me and who were also interested in the same things I was. Everyone was so welcoming, friendly and insightful. After that first meeting, I knew that I met the right organization for me.
While being a part of this organization, not only have I received the opportunity to gain so much real world experience in the journalism world but I feel prepared to apply it because of all the events and workshops my chapter offers throughout each semester.
Due to COVID-19, all events and workshops have turned virtual, but that has not slowed us down at all. It allows for us to push our creativity with the organization to a whole new level and we are grateful for the growth. Just this past semester, our chapter has launched a new mentoring and tutoring program called NABJ Big&Little and collaborated with MSU Black Girl Fitness in October to spread awareness about breast cancer. We also invited recent alumni to come back and give insight to our members for our annual alumni panel along with our annual resume workshop.
To be a Black journalist means to create a voice for minorities that have been silenced for so many years and to use your voice to tell the true history from the past. There are so many instances when Black journalists have to pick a side when reporting on controversial topics. This past summer, the MSU Chapter of NABJ took a stand against racial injustice and made a statement about the nationwide protesting and reporters being arrested for simply doing their job. Our statement included educating people and reporters on how to use their platform with particular word choice and what those words mean.
Before becoming the current president of the MSU chapter of NABJ, I have always admired the leadership that came before me. These three hard working women always encouraged me to do my best and gave me the best tips to land my next internship. The chapter would not be where it is today without previous presidents: Treasure Roberts, Tatianna Hemphill and Alyssa Burr. I thank these women because they each have brought new ideas and visions to the organization, and I am grateful to follow in their shoes. I also want to thank our campus adviser Joe Grimm. He is always there when we need him and offers support for events and workshops.
From 2017 to now, we have gone from reactivating our chapter to being presented with the Student Chapter of the Year Award. On behalf of all of our members, we are grateful for this recognition and thank The National Association of Black Journalists. We promise to continue to work hard and create a voice for the voiceless.