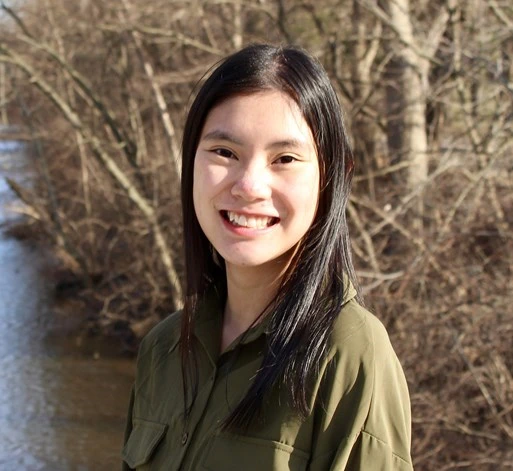 Chloe Majzel is a third-year student majoring in international relations in the James Madison College and economics in the College of Social Science with minors in Asian Pacific American Studies and Chinese. Majzel is a leader within the Asian Pacific Desi American, or APIDA, community: She is the program assistant for the Asian Pacific American Studies Program, the president of the Asian Pacific American Student Organization and is part of the planning committee for APIDA Heritage Month to celebrate and raise awareness of the APIDA community.
Being a member of the Asian Pacific Islander Desi American — APIDA— community is complex as it encompasses a diverse group of people — each with their own struggles and privileges. I am a Chinese American adoptee.
I did not grow up around Chinese or Asian culture, nor did I have APIDA role models. While I did not get made fun of in school for having "smelly" lunches, I did receive stares because I do not look like my family. My teachers made faces on the first day of school because they did not expect an Asian person to have a non-Asian last name. First and second-generation Chinese Americans often discount my identity as a true Chinese American because I am not fluent in the Chinese language or culture, yet I was born in China, and they were not. Every time I enter an Asian space, I am continually told and reminded I am not Asian enough — "white-washed." Yet, I am too Asian to fit into the white spaces I grew up in.
The APIDA community is arguably the most diverse minority group in America. Over 14 language families, over 12 religions and 48 countries are represented; and the inequality gap is one of the largest for minority groups in America. Many APIDA people immigrated to the United States to pursue the American Dream, whereas others were forced to leave their homeland and arrived in this country as refugees or adoptees like me.
It was not until college when I learned about the history of international adoption and met adult adoptees, specifically my adviser, Meaghan Kozar, who helped me express my feelings as an Asian American and an adoptee. I am slowly learning to embrace my identity and to be proud of it.
APIDA Heritage Month is crucial to the MSU community because APIDA people are frequently forgotten or discounted regarding diversity, equity and inclusion initiatives. Along with APA Studies, APIDA Heritage Month teaches students about the diverse experiences of APIDA people since society inaccurately views us as a monolithic group with one shared experience. The month not only celebrates the diversity within our cultures but also educates others about our community.
In the past year, the APIDA community has endured major losses. The model minority myth does not protect APIDA people from racism and discrimination — proven by the COVID-19 pandemic and the surge in anti-Asian hate and violence, with the shooting in Atlanta, GA being the most recent and tragic event. As an adoptee, I find it difficult to mourn with and for a community that does not accept me. However, I still want to advocate for the APIDA community and represent adoptees to stop anti-Asian hate.
I am passionate about the APIDA community and ethnic studies because I want to learn about APIDA history and identities as it is often erased from U.S. history. I want to learn about the history of international adoption and the citizenship issues that come with it. My passion for APIDA people has led me to pursue professional experiences relating to APIDA advocacy. I interned for the Association of Chinese Americans and served as an APIA Vote Ambassador. Most recently, I was selected as a civic fellow for the International Leadership Foundation, which fosters the next generation of Asian American and Pacific Islanders leaders in public service. I hope to continue to advocate for the APIDA community and serve as a role model and mentor to young APIDAs and adoptees in the future.