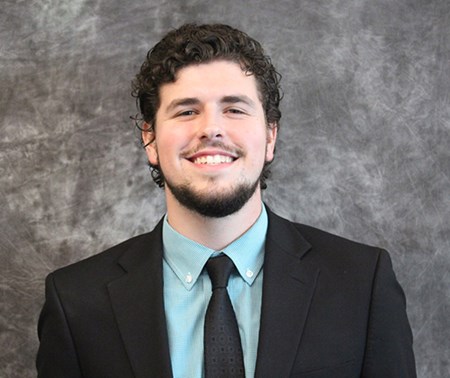 Joe Strother is a fourth-year student in the advertising and public relations program. He recently started working as the account manager for 42° North, the new student-led integrated marketing and communications agency. This student view is repurposed from the Communication Arts and Sciences website.

When I transferred to Michigan State in 2019 from Lansing Community College, there were many questions on my mind. How tough are classes? How will the professors be? Will I be able to befriend anyone coming in late as a transfer student? Are there any extracurriculars I can get involved with as a junior? Will I be able to do anything meaningful in my two short years as a Spartan?

I have been fortunate enough to enjoy leadership opportunities at every step of my academic journey thus far. I was the president of the business club at my high school, the president of LCC's chapter of the American Marketing Association, and I helped manage advertising for LCC's newspaper: The Lookout. Frankly, it felt like I was on the fast track for a long and successful career.

However, when I got to MSU, I had a serious reality check. I wasn't in Kansas anymore. It felt like I was behind the ball compared to my peers. It seemed like everyone had been on campus for years and that I had no clue what I was doing. I felt like I left the pond and jumped head-first into an expansive ocean. Then, halfway through my second semester, COVID-19 hit our country and our state. Zoom became the norm, and campus became a ghost town.

Feeling unsure about myself and my next steps, I reached out to Alexandrea Thrubis Stanley. Alexandrea was the first professor I met at Michigan State and was one of the first that welcomed me with open arms to ComArtSci and the advertising and public relations program. We set up a call on Zoom and discussed my future. We talked about family, classes, traveling and careers. During that call, Alexandrea shared with me she was planning something big for MSU AD+PR: 42° North.

42° North is the new student-led, faculty-guided integrated marketing and communications agency at Michigan State. Joining Alexandrea in overseeing the agency is fellow AD+PR professor Greg Taucher. Together, they have 45+ years of industry experience and bring a wealth of knowledge and resources to the new venture.
The main goal of 42° North is to provide an unprecedented experience for MSU students interested in pursuing a career in the field of advertising, public relations and marketing. The students coming out of 42° North will have a tremendous advantage as they enter the workplace because of their experience with the agency. Make no mistake, though; this isn't a student club. It is a professional-caliber agency. The students will meet professional expectations, work with real-world clients, and deliver professional-level work.
Alexandrea mentioned this to me during our Zoom, and the lightbulb clicked on for me. 42° North was the perfect opportunity for me to leave my mark at MSU and create a one-of-a-kind opportunity for future Spartans. I interviewed for the team in December and was brought on board to serve as the first 42° North account manager in January. Joining me are four fellow MSU Students: Olivia Maldonado as creative director, Grace Bohlen as copywriter, Kala Watson as project manager and Joe Herrada as strategist. Self-dubbed as the "Founding Five," we will spend this semester working on building the agency from the ground up and setting the foundation for its future success.

I will be graduating this spring and, as I look back on my time at Michigan State, I have mixed emotions. COVID-19 certainly rattled my plans like it has ravaged the lives of so many of our friends and families. That said, I am incredibly grateful for the individuals who made me feel part of the Spartan community and the opportunities ComArtSci has provided me. While I only have one more semester, I know my work as a part of the "Founding Five" to establish 42° North will live on for years to come.