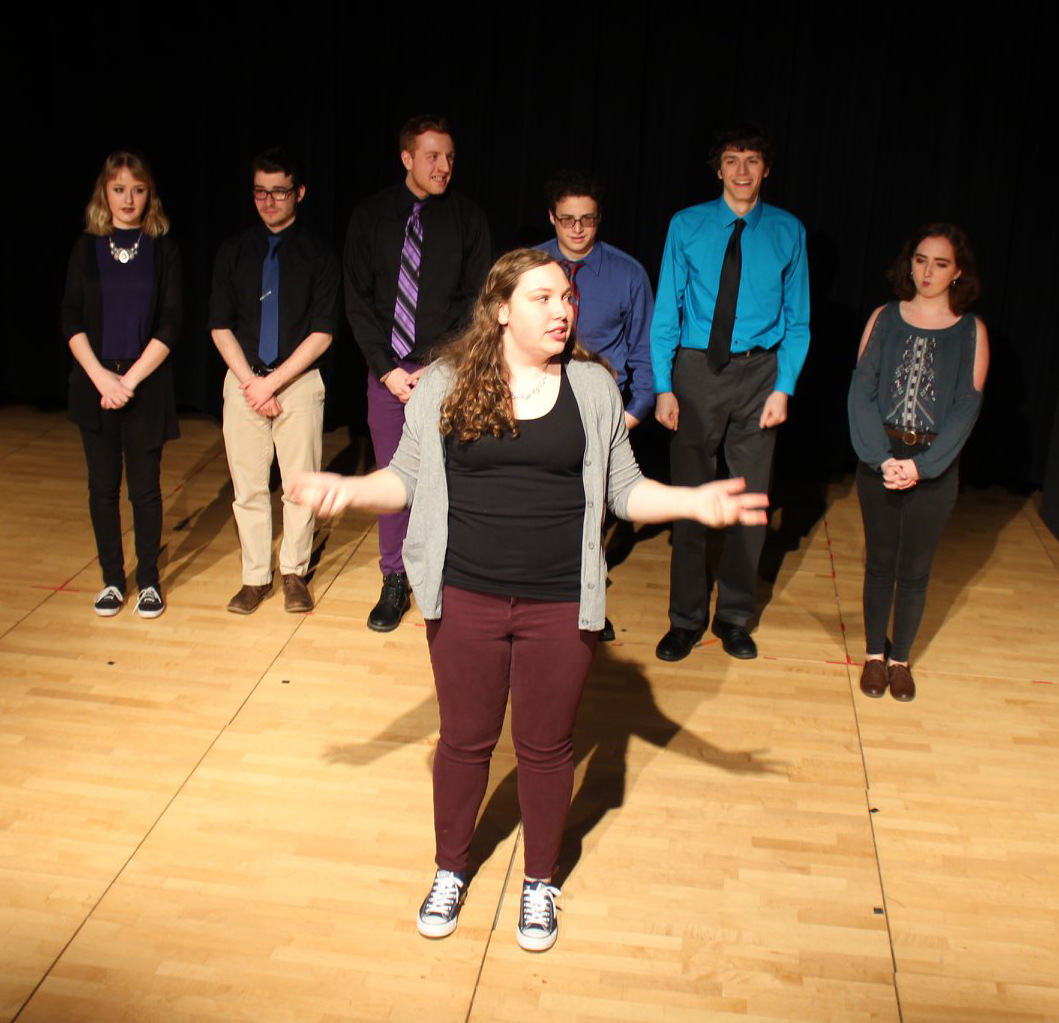 Brenner at the 2018 Roial Players Sketch Comedy Show
Alaina Brenner recently earned her degree in genomics and molecular genetics and anthropology, and was a College of Natural Science Dean's Research Scholar. This story was originally featured on the College of Natural Science website and has been edited and updated (May 2021).
College is the time in a student's life to grow, change and explore new things. Anyone — no matter the passion or hobby — can find exactly what they are looking for academically or socially at Michigan State University. I have learned over the past four years that the key to sustaining strong mental health and getting the most out of my MSU experience is a balance between academics, social clubs and outreach.
I double majored in genomics and molecular genetics and anthropology, which definitely kept me busy. Deciding to take on these two majors has been nothing short of challenging, and I would often spend late nights in the library hunched over my laptop.
However, I also spent much of my time as a member of the Roial Players — a student-run, student-organized performance arts group on campus. Even though this club wasn't going to get me further in my academics or make it high on my CV, without improv, I do not think I would have been able to take the pressure that comes with college.
Having an outlet for stress and emotions has been critical to my mental health, and I can think of no better way than playing pretend with a bunch of amazing people. We laughed, we cried, we screamed, we acted, we improvised. Twice a week for two hours, I would give myself a break from worrying about all the things cluttering my planner like a cultural anthropology paper or a genetics exam. I would completely let loose and converse with other students from many different degree programs.
Not only is it important to have nonacademic outlets for mental health, they also have been surprisingly relevant to my degree and future. My professional goal is to earn my Ph.D. in evolutionary genetics and become a professor and academic adviser. The skills I have developed while doing improv — including public speaking and thinking on my feet — are exactly what professors do on a day-to-day basis. I have even seen some graduate schools require improv classes as part of their doctoral program to learn the skills I now excel in because of the Roial Players.
Outreach also has been a great outlet, providing me with opportunities to meet other people both outside and within the university. As a student, I was involved in a community-based teaching program called the Human Ancestors Program through the MSU Museum that provides middle school students with hands-on activities that strengthen and expand their knowledge of hominin ancestors.
Additionally, my role as a Dean's Research Scholar afforded me the opportunity to represent my institution and share with alumni the innovative research that I am contributing to our alma mater. This outreach program allowed me to take a break from the stresses of college and focus on bettering my community.
Establishing a balance between academics and social activities was the key to sustaining a positive and healthy attitude during college. So, to future and current students, get out there, make people laugh, provide for your community and, better yet, provide for yourself.