MSU Museum's Science Gallery is pleased to present — in partnership with WDET-FM, Detroit's NPR Station — a two-hour program exploring Afrofuturism in Detroit called "Sonic Assembly: On Afrofuturism and Performance." Hosted by Amanda LeClaire of WDET's CultureShift and Antajuan Scott, Science Gallery's head of programming, this special broadcast will air from noon to to 2 p.m. on Friday, Aug. 6 on WDET 101.9 FM as part of the 29th annual Concert of Colors.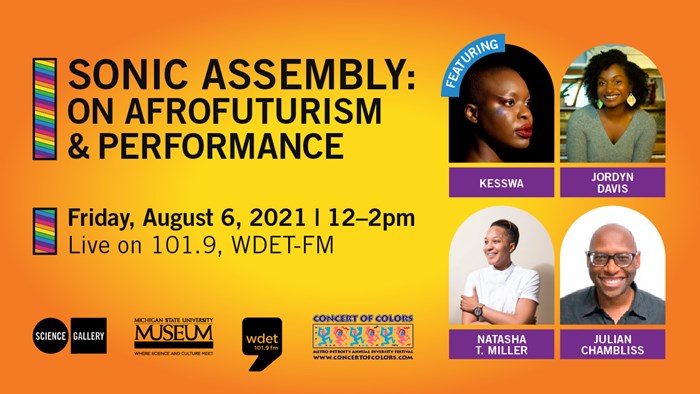 Afrofuturism is an ideology with strong roots in the city of Detroit. From musical acts like Parliament Funkadelic to the writings of author Clarence Young, the points of access span the creative sphere. For this event, Julian Chambliss, Val Berryman Curator of History at the MSU Museum, will provide an introductory overview on Afrofuturism. Afterwards, the program will continue with interviews and performances by three acclaimed, Detroit-based, performers. This includes Kesiena Wanogho (a.k.a. Kesswa), Jordyn Davis and Natasha T. Miller.
The 29thAnnual Concert of Colors — Detroit's most beloved free, global music festival — will be a blend of live, broadcast and streamed events Aug 2- 9. The list of greats from around the world include Roy Ayers, Melvin Davis, Souad Massi, Organic Orchestra and Brooklyn Raga Massive, as well as acts from Haiti, Japan Uganda and other countries. The Don Was All Star Detroit Revue returns for a spectacular tribute to George Clinton.
For the second consecutive year, Science Gallery will contribute programming to the Concert of Colors that explores the rich musical and cultural heritage of Detroit. "Sonic Assembly: On Afrofuturism and Performance" is made possible, in part, by the Michigan State University Federal Credit Union.
For more information, visit the MSU Museum website.