Bridget Walsh, an assistant professor of communicative sciences and disorders in the MSU College of Communication Arts and Sciences, has a new mission: put a speech development lab on wheels to reach children and families away from her brick-and-mortar lab on the East Lansing campus. Walsh received a $3.1 million grant from the National Institutes of Health to study the risk factors in children that lead to chronic stuttering in adulthood.
Taking her expertise from lab to local communities required Walsh to step outside of her academic department to collaborate with MSU's Transportation Services, housed within Infrastructure Planning and Facilities.
Walsh's goal is to reach young children when they first show signs of stuttering.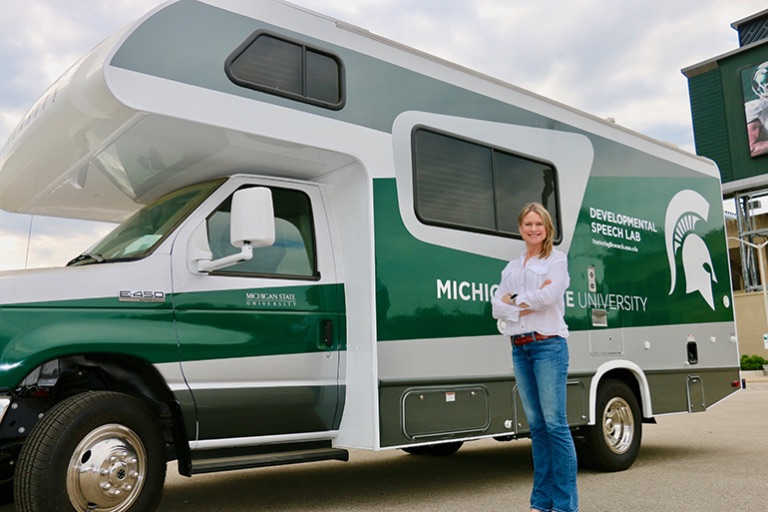 Bridget Walsh, assistant professor of communicative sciences and disorders in the MSU College of Communication Arts and Sciences, and the Mobile Developmental Speech Lab. Photo courtesy of the College of Communication Arts and Sciences.
"To better understand the genesis of stuttering, we focus on the time when it emerges — in the preschool years — most often between ages 2 to 5 years," said Walsh. "Typically, kids begin to stutter around age 3, a time when they start putting multiple words together to make longer utterances. That's when parents start to notice that their child may be stuttering."
Stuttering is fairly common in young children: Approximately 5% to 8% of preschoolers go through a period of stuttering. The good news is that most, nearly 80%, of these children will recover from stuttering. On the other hand, children who continue are at risk for developing chronic stuttering that may lead to the development of adverse impact.
"These individuals often go to great lengths to avoid moments of stuttering and conceal their disfluencies, sometimes at the expense of saying precisely what they mean or asking for exactly what they want," said Walsh.
Walsh referred to the example of President Joe Biden, who sometimes changes direction when he gives a public speech. "It's incredibly inspiring that we have a president who is a person who stutters," she said. "I wish, though, that he would be a bit more open about his stuttering."
In March 2020, soon after the pandemic hit the U.S., Walsh realized the public health concerns and limitations of face-to-face research. That realization caused her to reflect even more on something she had long recognized: the barriers children from diverse populations face when seeking treatment.
Traditionally, Walsh's research relied on the ability of families with young children to come to MSU multiple times for research studies taking place in the Developmental Speech Lab. For many participants, that simply wasn't possible because of distance, time commitments, work and financial issues, or reliable transportation.
"By taking the burden off families and bringing the research to them, we can cast a wider net and include participants in our research who reflect the population at large," Walsh said. "Our goals are to better understand the neurological basis of stuttering, to assess risk factors for persistence and to address the adverse impact on children when stuttering persists."
Once the mobile lab was approved, the search for the perfect used RV began, as well as her collaboration with MSU's Transportation Services.
Brian Watts, assistant director of Transportation Services, agreed that the "out-of-the-box" project showcased the talents, creativity and immense collective knowledge of IPF personnel. From engineering to design, the team customized the vehicle to exact specifications, constructing an ideal interior to house sensitive diagnostic equipment, support a consistent power supply and provide a welcoming atmosphere for children and families. The team also was called to help with branding the exterior and to create an inviting, recognizable presence for the vehicle's future on the road.
Walsh plans to drive the mobile lab to communities within a two-hour radius of campus, or even further, once health concerns related to face-to-face meetings diminish. To date, she's reached out to more than 1,200 health, speech and language professionals to recruit children who stutter.
The purchase and conversion of the RV was supported by the MSU Office of Research and Innovation, the College of Communication Arts and Sciences, the Department of Communicative Sciences and Disorders and start-up funds provided by Walsh.
Families interested in participating in Walsh's research can email her at dsl@msu.edu or complete a questionnaire.