Under the direction of Marlon Lynch, Michigan State University vice president for public safety and chief of police, and with approval of MSU President Samuel L. Stanley Jr., M.D., the focus and structure of the MSU Department of Police and Public Safety has been adjusted to better represent the priorities of the Spartan community.
"MSU officers play a critical role in fostering a respectful, welcoming, supportive and, above all, safe campus," said Stanley. "They live out our values every day, so it is important they continue to evolve and grow with our community."
The reorganization, effective July 1, places greater emphasis on community engagement; diversity, equity and inclusion; relationship violence and sexual misconduct; professional standards and public integrity; and behavioral support services. Many of the changes directly align with recommendations made by the Task Force on Racial Equity police working group and the initiatives outlined in the Relationship Violence and Sexual Misconduct Strategic Plan.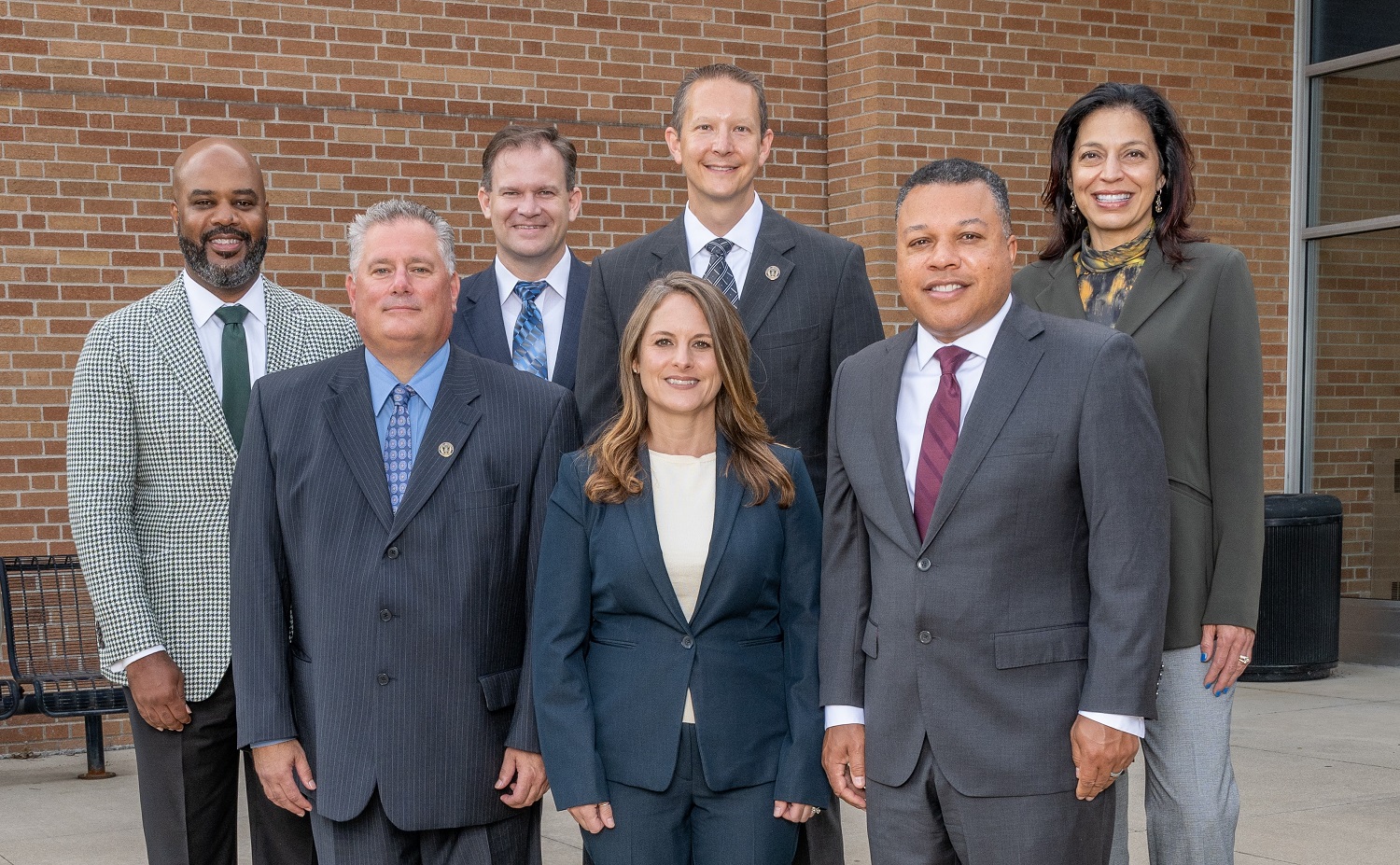 MSU Police and Public Safety leadership team.
Back row left to right: Marlon Lynch, John Prush, Chris Rozman, Traci Ruiz
Front row left to right: Doug Monette, Andrea Munford, Daryl Green
"When I arrived earlier this year, I knew it was very important to engage with our community about their wants and needs for the future of campus public safety," Lynch said. "By considering that feedback and working with leaders across campus as well as my staff in the department, we have developed a structure to better serve and support our community, today and for the future.
Notably, Lynch created the Community Engagement Bureau and the Community Support Bureau. Under the direction of Deputy Chief Traci Ruiz, the Community Engagement Bureau will focus on building a trust-based relationship with the university's diverse community including the integration of full-time community engagement officers in the residential neighborhoods.
"Police and public safety are vital to a thriving community, but it cannot be all we do – we must also focus on our engagement, support and respect of our community," Lynch added. "We will be a modern organization that is responsive to the concerns and needs of our community. That means we need to meet people where they are and learn to work and grow together."
Deputy Chief Andrea Munford will lead the Community Support Bureau including the Special Victims Unit, Center for Trauma-Informed Investigative Excellence and the Community Care Unit. Munford will continue her role as special adviser to the president on RVSM issues. Lynch also established a chief of staff position to serve as his senior adviser. As chief of staff, Daryl Green is responsible for accreditation, internal affairs, recruiting, budget, finance, human resources and strategic planning. In addition, Green will oversee DEI initiatives including programming, training and education.
Some of the other changes include:
Establishment of a captain level position, held by Florene McGlothian-Taylor, to focus on the department's diversity, equity and inclusion efforts along with additional staff to support this area.

Partnership with the College of Social Science to integrate social work students as department interns to provide support services in behavioral health response along with a full-time social worker.

Creation of a Professional Accountability Unit to ensure compliance, conformity and uniformity in the conduct of the Department's operations while increasing the effectiveness, efficiency and service delivery.
MSU Police and Public Safety has also begun the accreditation process with the Commission on Accreditation for Law Enforcement Agencies. The program provides public safety agencies with an opportunity to voluntarily meet an established set of professional standards, which are considered the gold standard in the industry.