Michigan State University will host American Council on Education Fellow Wondwossen A. Gebreyes, D.V.M., for the 2021-22 academic year. Gebreyes is one of 52 fellows who comprise this year's cohort at colleges and universities across the nation.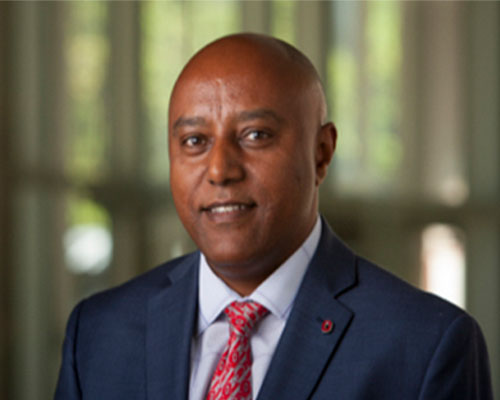 Dr. Gebreyes
Established in 1965, the ACE Fellows Program is designed to strengthen institutional and leadership capacity in American higher education by identifying and preparing faculty and staff for senior positions in college and university administration. It combines in-person and virtual learning engagements, interactive learning tools, campus visits, and placement at another higher education institution to condense years of on-the-job experience and skills development into a single academic year.
President Samuel L. Stanley Jr., M.D., Provost Teresa K. Woodruff, Ph.D. and MSU Executive Vice President for Health Sciences Norman J. Beauchamp Jr., M.D., will serve as mentors, providing Gebreyes with career-enhancing experiences and opportunities to further his leadership career in and impact on higher education.
"Mentoring up-and-coming colleagues is a vital practice for educational leaders," said Stanley. "The ACE Fellows Program gives future leaders in higher education hands-on experiences to help prepare them for careers in such a challenging field. We are eager to welcome Dr. Gebreyes to our campus this fall."
Fellows often are included in the highest level of decision-making while participating in administrative activities at their host institutions. Time is also spent investigating a specified issue of benefit to their nominating institutions for implementation upon the fellows' return to campus at the conclusion of the fellowship placement.
"Selection as a host institution is a sign of the outstanding reputation and commitment to excellence at MSU," said Sherri Lind Hughes, director of the ACE Fellows Program and a 2002-03 fellow. "An ACE fellow chooses an institution not only for its rigorous academic environment, high-quality efforts to educate students, but also its strong desire to invest in the future of higher education senior leadership as well."
Gebreyes is a distinguished professor of molecular epidemiology and the executive director of Global One Health initiative at The Ohio State University. He also founded the International Congress on Pathogens at the Human Animal Interface and serves as its chairperson. Gebreyes's background in infectious diseases has been critical to his work, especially during the COVID-19 pandemic, as he led OSU's One Health initiative building capacity and developing innovative solutions to emerging health threats in strategic global areas ranging from locally and regionally in the mid-west to Eastern Africa, Latin America and Asia. He earned Doctor of Veterinary Medicine from Addis Ababa University and his Ph.D. at North Carolina State University.
"Michigan State has a global reputation for world-class faculty and staff and globally recognized innovative teaching and learning," said Gebreyes. "Beyond its innovation and groundbreaking discoveries, it was the community-oriented nature of MSU and its land-grant mission that truly inspired me and made this a great fit. I'm looking forward to learning under President Stanley and my co-mentors while enriching my higher education leadership skills and finding ways to give back."
Nearly 2,000 higher education leaders have participated in the ACE Fellows Program over the past five decades, with more than 80% of fellows having served as senior leaders of colleges and universities.