A Michigan State University College of Human Medicine researcher has been awarded a federal grant to study a gene therapy treatment for cystic fibrosis, a potential cure for the rare, lethal disease that afflicts more than 30,000 people in the United States and 70,000 worldwide.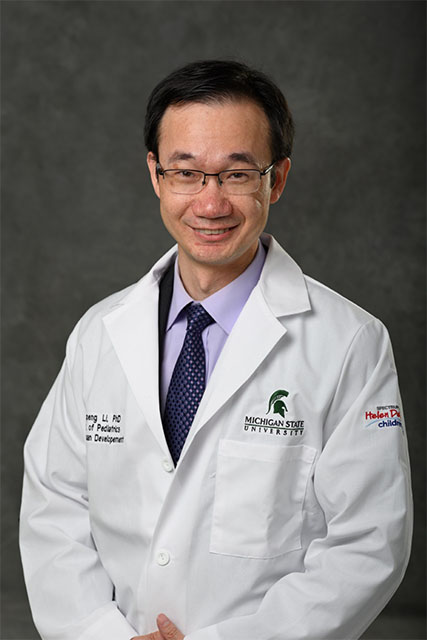 Dr. Xiaopeng Li
The grant from the National Institutes of Health will allow a team of researchers led by Xiaopeng Li, PhD, an associate professor in the Department of Pediatrics and Human Development, to study how CFTR gene (the causal gene for cystic fibrosis) mutations in the small airways in the lungs of cystic fibrosis patients lead to life-threatening infections.
The funding – $2.1 million over four years – is "critical for this research," Li said. "One reason we got the grant is we have a lot of data to show this is a feasible approach to treating the disease."
Li will lead a team that includes College of Human Medicine researchers Jeremy Prokop and Christopher Waters. The team also includes four pulmonologists – Reda Girgis, Susan Millard and John Schuen from Spectrum Health and Helen DeVos Children's Hospital Cystic Fibrosis Center, and Ryan Thomas from MSU's College of Human Medicine.
"Marrying basic science and clinical medicine is a goal that is driving the collaboration between MSU and Helen DeVos Children's Hospital/ Spectrum Health," said John Schuen, MD, chair, Cystic Fibrosis Translational Research Program. "This relationship has already led to significant grant opportunities and published literature. Together, we will help uncover important discoveries at the cellular level that we hope will benefit our CF patients in the future."
The Cystic Fibrosis Translational Research Program is sponsored by the MSU-Spectrum Health Alliance and the Hunt for a Cure Foundation. The collaboration between MSU and Spectrum Health highlights the importance of "our outstanding and expanding research partnership in the area of cystic fibrosis," said B. Keith English, MD, chair of the college's Department of Pediatrics and Human Development.
The significance of the small airways in cystic fibrosis patients has not been well studied, Li said. Previous research, however, has shown that cells in the small airways of cystic fibrosis patients do not secrete bicarbonate, a substance necessary to maintain a proper pH balance on the cell surface. As a result, Li said, cystic fibrosis patients tend
to develop thick mucus obstruction in the small airways, making them susceptible to bacterial infections, which can lead to respiratory failure and death.
For years, patients have had to spend hours using drug therapies and airway clearance. More recently, CFTR modulators have been approved by the FDA but still do not provide a cure, with life expectancy in the mid-40s. It is a genetic disease with over 2,000 mutations in the CFTR gene. CF is usually diagnosed in infancy but even adults can discover that their "chronic cough" or "recurrent pancreatitis" is actually CF.
The study will look at why the cystic fibrosis small airways are so vulnerable to infection and the feasibility of replacing the defective gene with a normal gene, a procedure that would be tantamount to a cure Li said.
"It's a particularly devastating disease," he said. "Hopefully, one day we can apply this treatment to human patients."
Research reported in this publication was supported by the National Heart, Lung, and Blood Institute of the National Institutes of Health under Award Number R01HL153165. The content is solely the responsibility of the authors and does not necessarily represent the official views of the National Institutes of Health.