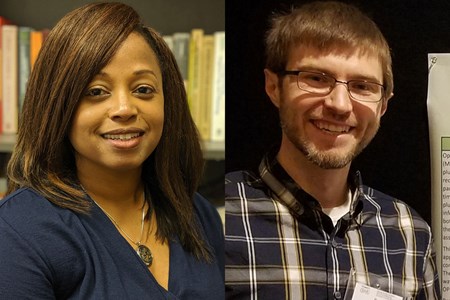 Jade Mitchell and Ryan Julien
As a risk assessment researcher, Jade Mitchell has analyzed the public health implications of various infectious diseases.
But the novel coronavirus presents an entirely new challenge: monitoring, analyzing and assessing data on the virus' presence on Michigan State University's campus in real time.
Mitchell, an associate professor in the MSU Department of Biosystems and Agricultural Engineering, is a member of the MSU Coronavirus Task Force surveillance subcommittee. The subcommittee is a multidisciplinary group of MSU researchers in human and veterinary medicine, microbiology, packaging, engineering and public health; and representatives from the University Physician's Office, University Communications and IT.
There are two parts to on-campus coronavirus surveillance: wastewater testing and saliva testing. Mitchell and Joan Rose, the MSU Homer Nowlin Chair in Water Research, are co-leaders of the MSU Wastewater Surveillance Program, which monitors the presence of the novel coronavirus in wastewater from different dorms.
"Usually, wastewater gives you some type of early warning on when there's going to be a spike in cases," Mitchell said. "At certain dorms, we'll see spikes in wastewater, and that's because people are shedding the virus before they become symptomatic."
Ryan Julien, a doctoral student under Mitchell, manages the wastewater sampling, which is done using automatic composite samplers. These samplers are placed in sewers on campus and use a pump to collect wastewater at predetermined times.
"Our composite samplers take a small wastewater sample every 15 minutes from 7 a.m.-noon, so we get a much wider time range than we would if we just grabbed a random sample from the sewer," Julien said. "This gives us more representative samples as we're collecting wastewater over a longer period of time, likely catching contributions from more people."
Data analysis to support decision-making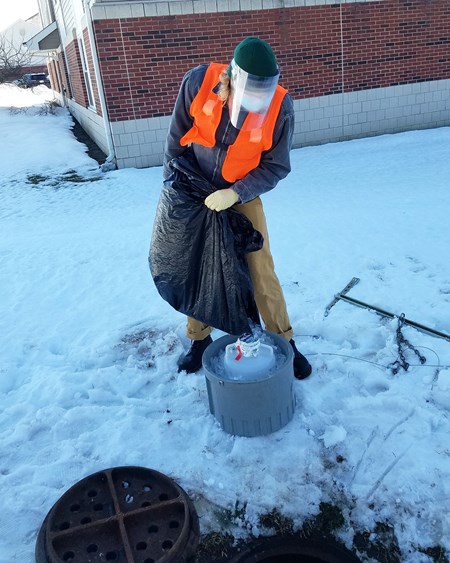 Fisheries and wildlife junior Carter Graves packs ice around the bottle in a composite sampler to prepare for wastewater sample collection. (Photo courtesy of Ryan Julien)
Julien has a team of students that help collect wastewater samples. Once samples are collected, they are delivered to Rose's lab for further analysis. Data from Rose's lab is then shared with Julien, who uses it to assess the relationship between the cases signaled by wastewater samples and actual confirmed cases. Julien also examines data from MSU's COVID-19 Early Detection Program, commonly known as the Spartan Spit Program.
The Spartan Spit program requires undergraduate students living on campus, coming to campus for in-person coursework, or working on campus to provide a saliva sample each week. Jack Lipton, chair and professor of translational neuroscience in the MSU College of Human Medicine, developed the testing protocol and evaluates the samples for the novel coronavirus.
Spartan Spit is for people who are asymptomatic, or not showing symptoms of the coronavirus. According to the U.S. Centers for Disease Control and Prevention, individuals who are showing symptoms should be clinically tested.
"My lab is trying to put together the data that we have from University Physician's Office on the symptomatic clinical positive tests, the saliva positive tests, which are representative of people that are asymptomatic, and what we're finding in wastewater, which represents both populations," Mitchell said. "These systems aren't currently connected. We're combining them on a weekly basis to develop reports that support decision-making at the upper administrative level."
The data Mitchell and her team collect can show whether the novel coronavirus is spreading on MSU's campus and inform administrative decisions to modify operations or public health guidelines. In February 2021, MSU enacted a two-week period of enhanced physical distancing on campus and the surrounding community when the data showed an increase in positivity.
Spikes of the virus in wastewater are often followed by actual positive cases or quarantines and isolation, Mitchell said. Her team receives data from MSU Residential and Hospitality Services on the number of students living on-campus who are quarantining or isolating to further inform analysis.
"We're currently comparing our wastewater results to the number of students either in isolation or quarantine," Mitchell said. "This helps give us an idea about how the concentrations of the virus in wastewater are related to the number of suspected cases, and whether we should anticipate new cases if the virus levels in wastewater increase."
Mitchell is working with the MSU Department of Epidemiology and Biostatistics to evaluate other aspects of the novel coronavirus surveillance program, including compliance rates with saliva testing, which can help in interpreting results from wastewater samples. "For example, if we see low positivity among saliva, but high in wastewater," she said. "If we go and look and see that compliance is low, then we know that's something that needs to be communicated at the dorm or residence level."
Real-time reporting
Conducting this surveillance is a big undertaking, primarily because of its novelty, said Julien.

"Unlike testing done at a clinician's office, there are no frameworks to conduct testing or provide information about results back to participants at this scale," he said. "We've had to work to develop new systems and methods to make sure we're doing the best, most efficient and effective work to monitor COVID-19."

Communication has been key in quickly developing ways to monitor the novel coronavirus on MSU's campus.

"In my research, we normally have more time to look at how our results will be interpreted and used, and then prioritize dissemination of the results," Mitchell said. "The pandemic presented a pressing need, and we had to develop and implement these testing programs quickly and report in real time. It's been rewarding to work with different individuals across disciplines and watch our efforts grow."

Julien said he has enjoyed working on a project that contributes to improving the health and well-being of people living or working on or near MSU's campus.

"During this entire pandemic, I've just been cooped up in my house trying to do the right thing and limit spread," Julien said. "It feels so nice to be doing something proactive to help limit the spread of the virus and get people back into a normal life."
This story was originally featured on the College of Agriculture and Natural Resources website.