Armed with a passion for Spanish and an undeniable drive to learn, Margaret "Peggy" Kennedy successfully earned her M.A. in Hispanic literature from MSU last month at the age of 72. But what led her to pursue a second graduate degree at a time when most people are looking to retire, was born out of the love for her adopted son and the desire to learn more about where he is from.
"I started on this journey to get closer to my son's home culture," said Kennedy, whose son was adopted from Paraguay and who also has a daughter adopted from Guatemala. "And now that it's complete, I just might start reading up on Guatemalan literature for my daughter… though I'm not sure I can dedicate a whole degree to it!"
Looking back, much has changed from the 1970s, when Kennedy earned her B.A. in English and M.A. in counseling from the University of Michigan, to now.
"It's amazing to compare my time getting my undergraduate degree (writing with typewriters and whiteout) to completing my graduate degree during COVID, using Zoom and digital documents!" Kennedy said. "We've come a long way, and this experience has made me appreciate that."
A Passion for Spanish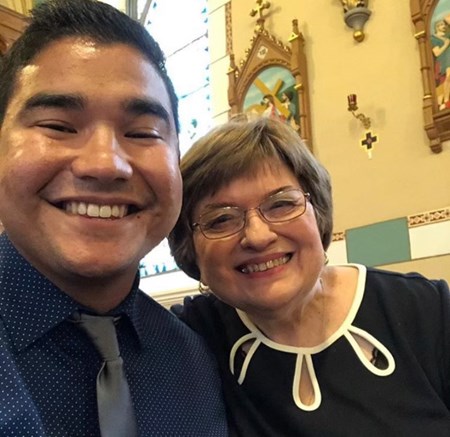 Peggy Kennedy and her son, Evan, who is adopted from Paraguay.
At the beginning of her career, Kennedy worked as a college advisor and counselor in Ann Arbor and later at Lansing Community College. After she and her husband had their first child, they decided to adopt.
Kennedy's interest in her thesis topic, "When Grief Remains and Memories Persist: Trauma and Historical Revisionism in 1920s Paraguayan Literature of the War of the Triple Alliance," was sparked 26 years ago, when she and her husband visited Paraguay to immerse themselves in the culture, speak the language — and adopt their son.
"We flew down to Paraguay… and I immediately fell in love," Kennedy said. This led Kennedy to learn more Spanish and to begin taking language courses at Lansing Community College. She completed every Spanish class there and quickly moved on to courses at Michigan State University through the Higher, Adult and Lifelong Education program.

"I had maxed out all the undergraduate courses I could possibly take," she said. "But I still wanted to learn more and dive into the culture and history from which my son came. I spoke with several faculty members in MSU's Department of Romance and Classical Studies and decided I could continue my studies through a graduate degree."
Focusing on Paraguay
Diving headfirst into the program, Kennedy quickly earned herself a special place in the hearts of her classmates and instructors.
"Peggy's story is an inspiration to all of us who have had the pleasure of working with her," said Scott Boehm, assistant professor of Spanish and graduate adviser. "I was fortunate to have had her in two of my graduate seminars. She always had something insightful to contribute, often drawing upon her vast life experience, including during the tumultuous 1960s."
That life experience continued to motivate Kennedy toward her thesis topic, an area she had kept at the forefront of her mind since that original trip to Paraguay more than two decades ago.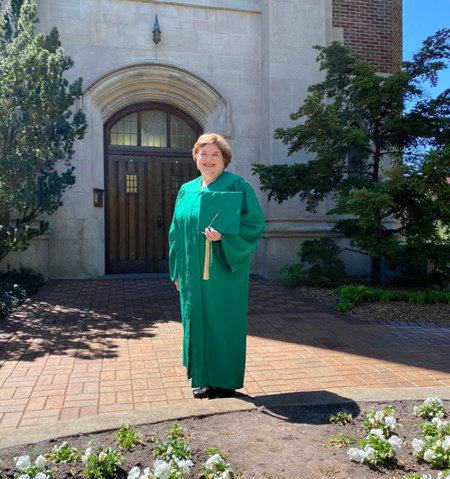 Kennedy in front of Beaumont Tower in her graduation gown.
"I was immediately taken with Paraguay's history when I first read about it, specifically a 19th century war called the War of the Triple Alliance," she said. "After spending time with Hispanic literature in my courses at MSU, it was clear to me that no one had ever examined the impact of that conflict on Paraguayan writing. I then chose to write a thesis to complete my program, so I could better research, understand and share that impact with others."
Kennedy wrote her entire thesis in the midst of the COVID-19 pandemic, which presented an additional set of challenges to the normal graduate experience. Quick to adapt, she took all of her meetings with her adviser virtually and worked closely with the MSU Library to gather needed resources.
"I couldn't have finished my work without the incredible support of our libraries," Kennedy said. "Working through pandemic restrictions, they personally sought to ensure I had the books I needed to complete my thesis. I can't thank them enough."
Besides the challenges of working remotely, Kennedy chose a thesis topic in which there is close to no published research and which required her to gain access to rare out-of-print publications.
"Peggy overcame all of these challenges and the outcome is an impressive piece of scholarship, well-crafted, compelling, and, above all, meaningful because it is a much-needed contribution to Paraguayan literature of the War of the Triple Alliance," said Maria Mudrovcic, professor of Spanish and Kennedy's thesis adviser. "I am overjoyed with her remarkable achievements and feel extremely lucky (and also honored, of course) to have been able to accompany her along this academic process."
After five years in the program, and 12 months working on her final project, Kennedy successfully defended her thesis on May 5, 2021.
"A thesis is like running a very long marathon… and I just crossed the finish line," she said. "I'm so proud to have achieved this accomplishment. This degree really is the culmination of the path I've followed throughout my life, and I wouldn't have even been on it without my family."
Follow Your Passions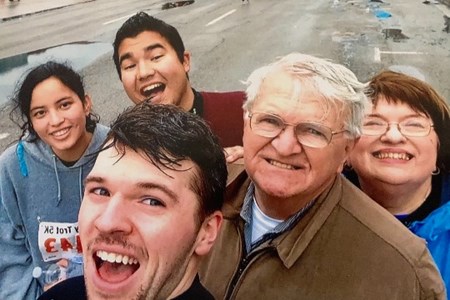 Peggy Kennedy with her family (from left to right: daughter Cristina, son Brendan, son Evan, husband Leo and Peggy)
Now that she has completed her degree, Kennedy plans to spend time with family, volunteer as a medical patient translator and, of course — read Hispanic literature.
"It's been a real joy to take this time to study, learn and read," she said. "I've loved being in classes with students at a very different stage in life than myself. I've learned a lot from them, and I've brought different perspectives to our discussions."
Kennedy said she will miss the program and the space it made in her life for what she's most passionate about. However, her research and scholarly work will continue.
"Finishing her degree is not an end in itself for Peggy. By the end of the defense, she was making plans to embark on her next scholarly project, the publication of a scholarly edition of a rare Paraguayan novel she struggled to find while writing her thesis," Mudrovcic said. "Undoubtedly, Peggy is on a mission. Before and now, Peggy remains driven by her everlasting desire to give Paraguayan literature the 21st-century readership that it deserves."
Throughout her time at MSU, Kennedy impressed her passion for lifelong learning upon the Spanish faculty and fellow graduate students, and when asked if she had any additional advice for her fellow Spartans, Kennedy said to focus on making time for the things that interest you and seeing them through to where they may lead.
"If you have a passion, find a way to pursue it. If it stays with you, keep going," she said. "Mine has led me on this amazing journey, and I hope that inspires others to take that next step toward whatever excites them."
This story was originally featured on the College of Arts and Letters website.