One child wrote lyrics about what she would do when she got home from the hospital. Another composed a melody about missing her friends. Other young patients sang, strummed, laughed and smiled — a needed respite from their health woes.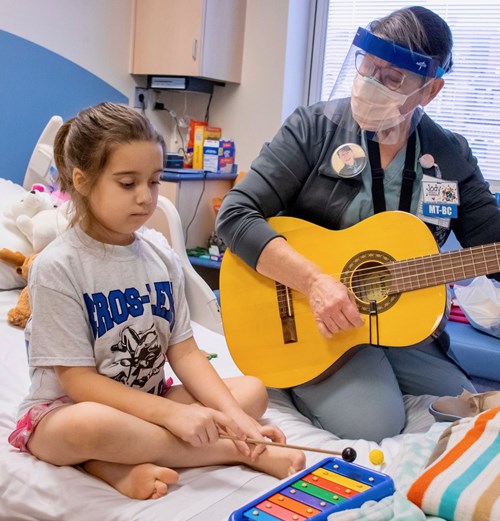 Music therapist and MSU College of Music alumna Jody Stark sees patients throughout Children's Hospital, from neonatal care and pediatric intensive care to rehabilitation and those receiving treatments for burns and cancer.
Since 2017, this has been the scene every day when kids at Children's Hospital of Michigan, part of the Detroit Medical Center, are visited by music therapists from MSU's Community Music School-Detroit. Bedside music therapy services and group sessions for children and families served by the Children's Hospital of Michigan Child Life department are provided by two board-certified therapists funded by a grant through The Children's Foundation. The success of this program has led to increased support for music therapy for children undergoing treatment for life-threatening illnesses.
Music therapists Jody Stark and Erica Cyrul from CMS-D see patients throughout the hospital. Some are in neonatal care and pediatric intensive care. Some are in rehabilitation. Many are on inpatient units receiving treatments for burns and cancer.
Stark, who earned her Ph.D. from the College of Music in 2012, coordinates the hospital program as the CMS-D site director of music therapy clinical services. She and Cyrul share a caseload of 20-25 patients each week with sessions individually tailored to support pain management, relaxation, emotional expression, normalization, socialization and distraction for patients and families.
"One of the most rewarding aspects is working with patients and their families and normalizing the hospital environment during what might be the most frightening and stressful time of their lives," said Stark. "We help children cope during painful medical procedures. We engage them in joyful and creative self-expression, and in turn, witness their resilience."
Read the full story on the College of Music website.