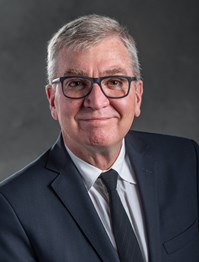 Michigan State University President Samuel L. Stanley Jr., M.D., has announced Douglas A. Gage has been named vice president for Research and Innovation. The appointment officially was approved by the Board of Trustees on June 18..
Serving as the interim vice president for Research and Innovation for the past year, Gage has been instrumental in providing continuity and stability to research activities at MSU.
"I have been impressed with Dr. Gage's leadership skills and ability to restore trust and confidence within this vital unit at MSU," said Stanley. "He has also made strong organizational changes, reduced inefficiencies and shifted resources to mission-focused areas. I particularly appreciated hearing from members of the Academic Governance Steering Committee, who indicated how effective he has been in the past year engaging with faculty and supporting their research efforts."
Throughout the pandemic, Gage and his team led the effort to implement safety protocols that allowed MSU's research enterprise to continue operating in person without a single case of COVID-19 transmission. Additionally, he oversaw the development and administration of the Early Detection Program, which has been essential to the university's COVID-19 testing efforts.
"While it has been very challenging to lead a complex research organization during the pandemic, it's been a privilege to serve as interim vice president for the past 12 months," said Gage. "I look forward to seeing many of our research goals come to fruition in the coming years."
Although his background is in the biological sciences, Gage has a keen appreciation for MSU's stature being enhanced by scholarly achievements across all of MSU's diverse disciplines, from the physical and social sciences to the arts and humanities.
Before serving in his interim role, Gage was an assistant vice president for Research and Innovation as well as a professor of biochemistry and molecular biology. He began his career at MSU as a postdoctoral researcher in the MSU-DOE Plant Research Laboratory and later served as the director of the Mass Spectrometry Facility. In 2002, Gage left the university to work in research and development in the pharmaceutical industry before returning to MSU in 2007. He earned a doctorate in botany from the University of Texas and holds a master's degree in biological sciences and bachelor's in psychology from Florida State University.