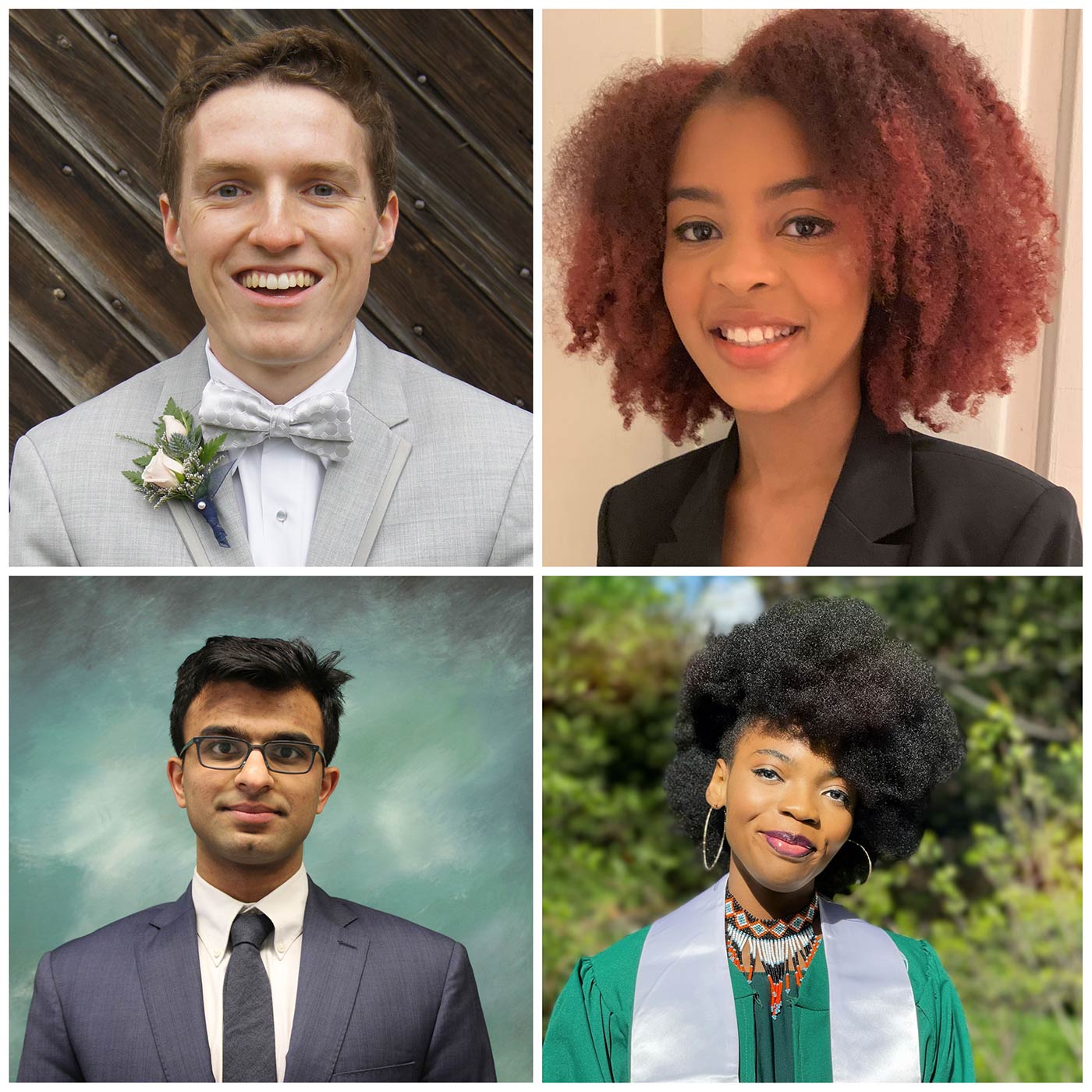 Andrew McDonald (top left), Jasmine Jordan (top right), Vishnu Kannan (bottom left) and Abii-Tah Chungong Bih (bottom right)
Four Michigan State University students and alumni are finalists for the Marshall Scholarship and the Rhodes Scholarship. These are nationally competitive scholarships that support students attending graduate school in the United Kingdom.
Andrew McDonald is a finalist for the Marshall Scholarship. He is an Honors College senior majoring in computer science in the College of Engineering, and advanced mathematics, and statistics in the College of Natural Science. McDonald was awarded the Alumni Distinguished Scholarship and a Professorial Assistanship. As a member of the D-CYPHER Lab, he developed machine learning-based algorithms to control and coordinate multi-robot systems used in environmental sensing applications, receiving the Goldwater Scholarship in 2021 in recognition of his contributions. McDonald currently serves as a research assistant to Pang-Ning Tan in the DMiner Research Lab and is a lead mentor for computer science outreach programs including Spartan Girls Who Code and Technovation.
McDonald is also a finalist for the U.S. Rhodes Scholarship along with Jasmine Jordan and Vishnu Kannan.
Jordan is an Honors College alumna and 2021 graduate with a bachelor's degree in political science in the College of Social Science. She was a member of the Urban Educator Cohort Program, and minored in educational studies in the College of Education, and African and African American studies in the College of Arts and Letters. Jordan was a member of the Social Science Scholars Program and the Political Science Scholars Program in the College of Social Science, and was an Honors Research Scholar in the Honors College. Jordan is currently a Gates Cambridge Scholar where she is pursuing an MPhil in Criminological Research at the University of Cambridge.
Kannan is a 2020 graduate and Honors College member with bachelor's degrees in international relations, and political theory and constitutional democracy in James Madison College, and economics in the College of Social Science, with a minor in South Asian languages and cultures. During his undergraduate career he was a research assistant for the Foreign Policy Research Institute, and a contributor to Lawfare, a national security law blog. He conducted research with the James Madison Human Rights Lab about human rights violations in Myanmar, and interned with the Brookings Institution think tank. He is currently a James C. Gaither Junior Fellow with the Technology and International Affairs Program at the Carnegie Endowment for International Peace in Washington, D.C.
Abii-Tah Chungong Bih is a finalist for the Global Rhodes Scholarship. She is an Honors College alumna with a bachelor's degree in international relations, and comparative cultures and politics from James Madison College. Originally from Cameroon and prior to coming to MSU, Bih attended the African Leadership Academy in Johannesburg, South Africa. At MSU, Bih was the first Black female student body president at the Associated Students of MSU, was the vice president of the African Students Leaders Association, and served on MSU's 2020 Homecoming Court. Upon graduating, she was selected as a Richard Lee Featherstone awardee. Bih is currently pursuing an MPhil degree in politics and international studies at the University of Cambridge. Her research, under the supervision of Sharath Srinivasan, focuses on the socio-cultural, political and economic effects of French post-colonial policies on rural francophone African communities.
MSU has produced 20 Marshall Scholars and 20 Rhodes Scholars.
The National and International Fellowships and Scholarships Office, administered by the Honors College, is dedicated to supporting undergraduate and graduate students pursuing major national and international opportunities by providing information and direct support throughout the competitive application processes.