Over the past year, MSU Health Care has provided COVID-19 testing at Spartan Stadium for thousands of MSU community members. With more Spartans getting vaccinated and the rapid decline in cases, testing is no longer needed at the Stadium and will no longer be offered after June 18.
Importantly, students who still need access to COVID-19 testing can get tested at Olin Health Center. Students, faculty, and staff may also continue participating in MSU's COVID-19 Early Detection Program for free saliva-based testing on a regular basis. Others in the community can find a testing site near them using the state of Michigan's testing locator.
MSU Health Care began its COVID-19 testing initiative just one month after MSU transitioned to remote-only instruction during the 2020 spring semester. After a brief stint at the radiology building parking lot to help offset the overwhelming demand for testing in the greater Lansing area, the testing site found a permanent home at Spartan Stadium.
"It's truly remarkable the work that's been done at the Spartan Stadium testing site," said MSU President Samuel L. Stanley Jr., M.D. "We're forever grateful to every Spartan and partner that worked so hard to provide our community with access to timely COVID-19 testing early on in the pandemic. With their effort, we've been able to create a safer and healthier environment for our Spartan community, and it is all thanks to their hard work."
During the 15-month span of operations, MSU Health Care worked with a number of area partners to distribute as many COVID-19 tests as possible, including:
MSU Infrastructure and Planning Facilities, which provided a place for patients to get tested.

The Office of Environmental Health and Safety, which worked to evaluate procedures to ensure the safety of workers and patients.

The MSU Student Health organization, which helped ensure access to tests for students and kept track of the number of positive cases for students to get a better understanding of the COVID-19 cases in our community.
The Veterinary Diagnostic Lab, where COVID-19 tests were processed for results.
"It has been such a tremendous team effort to get where we are today," said Kristine Allen,RN, MSN, MHA, chief nursing officer for MSU Health Care. "So many Spartans, within so many organizations, all working together with a common goal in mind: Creating a safe, healthy, environment for all members of our MSU community."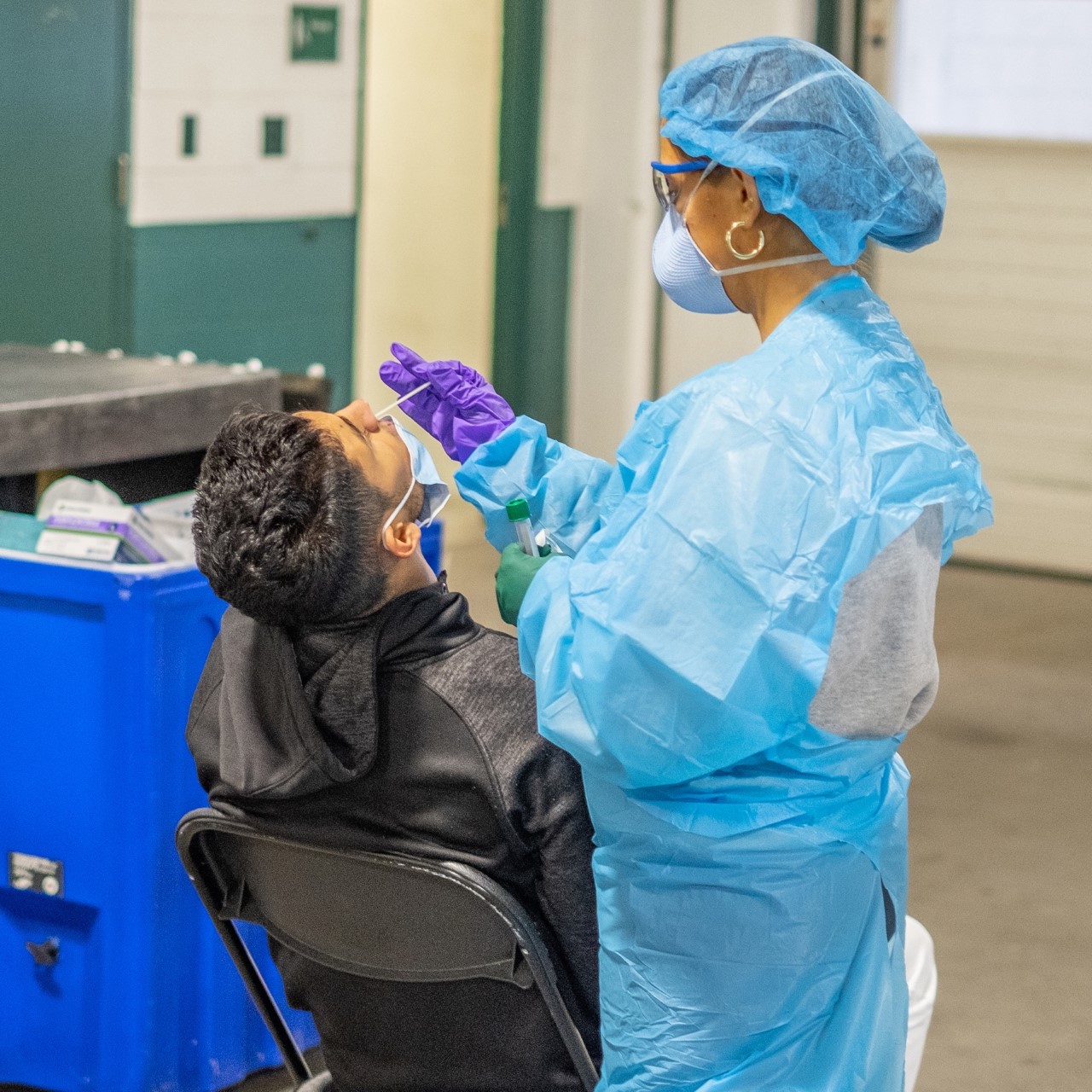 Overall, MSU Health Care was able to administer 20,295 COVID-19 tests. This number is even more impressive when considering a team of about 60 technicians, nurses, physicians, and other Spartans staffed the site in groups of six at any given time for a combined 10,560 hours of work. The team handled every aspect of testing at Spartan Stadium from setting up facilities to the actual testing itself.
Continuing its goal of creating a healthy MSU community, MSU Health Care is focusing its efforts on ensuring access to vaccinations.
"The call for hope, health, and healing has been responded to with selflessness, courage and urgency by members of our community," said Norman Beauchamp Jr., M.D., MHS, executive vice president for health sciences. "As we look to the fall, we will continue to be on call to respond to any future need with the same unprecedented speed and commitment demonstrated over the past year."
As noted above, COVID-19 cases are dropping significantly thanks, in part, to the number of Spartans stepping up to get a COVID-19 vaccination. By doing so they not only protect themselves from contracting or spreading COVID-19 but protect other members of our MSU community as well. And as more strains, such as the new Delta variant, are discovered, the incentive to become vaccinated persists. The more Spartans that become vaccinated, the closer we are to ending COVID-19 in our community. To take the step in the fight against COVID-19, members of the MSU community can get vaccinated by making an appointment with the MSU Health Care Pharmacy during normal clinic hours.