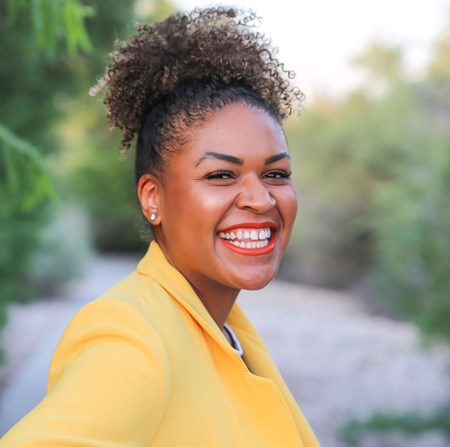 The Michigan State University College of Natural Science has named Amber Benton as its assistant dean for diversity, equity and inclusion. Benton, who was most previously director of diversity programming and student engagement in MSU's James Madison College, stepped into her new role on April 12.

"The college is thrilled to have Dr. Benton join us in this newly established position," said Phil Duxbury, NatSci dean. "We are fortunate to have someone with Amber's background and experience join us to transform diversity, equity and inclusion efforts in NatSci."

Prior to coming to MSU, Benton was a student success coach and a student support adviser at DeVry University (2011-2013). She joined the MSU faculty in 2014 as an academic specialist for first-year students in the College of Engineering, and then served as an academic specialist for computer science and engineering majors. During her tenure in engineering, Benton presented a FlashTalk at the National Center for Women and Information Technology's Annual Summit about efforts to increase women's participation in undergraduate computer science programs.

"I am excited to serve as the inaugural NatSci assistant dean of diversity, equity and inclusion where I can continue my work on DEI in STEM," Benton said. "I look forward to working with the entire NatSci community to provide innovative approaches to advance DEI."

Among her many accomplishments at MSU to date, Benton has been instrumental in organizing special programming for students and faculty, including: LIVE IT@JMC, an interactive workshop designed to introduce more than 300 first-year students in James Madison to concepts of diversity and civility; Madison Academic Diversity Initiative, a program that provides academic and social support, including a faculty mentoring program, to underrepresented students in James Madison College; and the First Year Mentor Program, which matches incoming students with upper-level students and promotes student engagement and involvement across campus. In addition, Benton created MSU's annual, one-day Social Justice Art Festival where student artists showcase visual and performance art related to social justice topics; created a professional and social networking space for MSU professionals identifying as Women of Color; and implemented MSU's first Women of Color Community Conference in 2019.

In the scholarship arena, Benton conducted two research studies in 2018-19 focused on student perception of STEM success — one in the natural sciences, and one in computer science. She also recently co-authored an article titled, "Comfort Over Change: A Case Study of Diversity and Inclusivity Efforts in U.S. Higher Education," which focused on DEI efforts among STEM cross-sector collaborations.

Benton was honored in 2021 with MSU's All-University Excellence in Diversity Award (Individual — Emerging Progress Award) in recognition of her many efforts and contributions to the initiatives and values of DEI and multiculturalism that Michigan State seeks to advance.

"The search committee was composed of individuals with diverse perspectives who are all deeply committed to DEI," said Cori-Fata Hartley, NatSci assistant dean for curriculum development and search committee chair.

In addition to the committee, many members from NatSci community participated in the search process including, faculty, academic staff, support staff, postdoctoral researchers and graduate and undergraduate students.

"During this process," Fata-Hartley added, "Dr. Benton shared with the community a well-developed vision for DEI grounded in the literature and informed by her extensive experiences in program development and evaluation. We are excited to have her join us."

Benton received her bachelor's degree in Spanish from Pacific University in Forest Grove, Ore.; a master's degree in higher education leadership from the University of Nevada, Las Vegas; and a doctorate in higher, adult and lifelong education from MSU. Her dissertation research focused on Black women undergraduates in computing at historically Black colleges and universities.
This article was originally featured on the College of Natural Science website.