Apple and Michigan State University welcomed the inaugural class of developers and entrepreneurs to its Apple Developer Academy in Detroit this week. The academy, which is Apple's first in the United States, will help prepare its students for jobs in the thriving iOS app economy.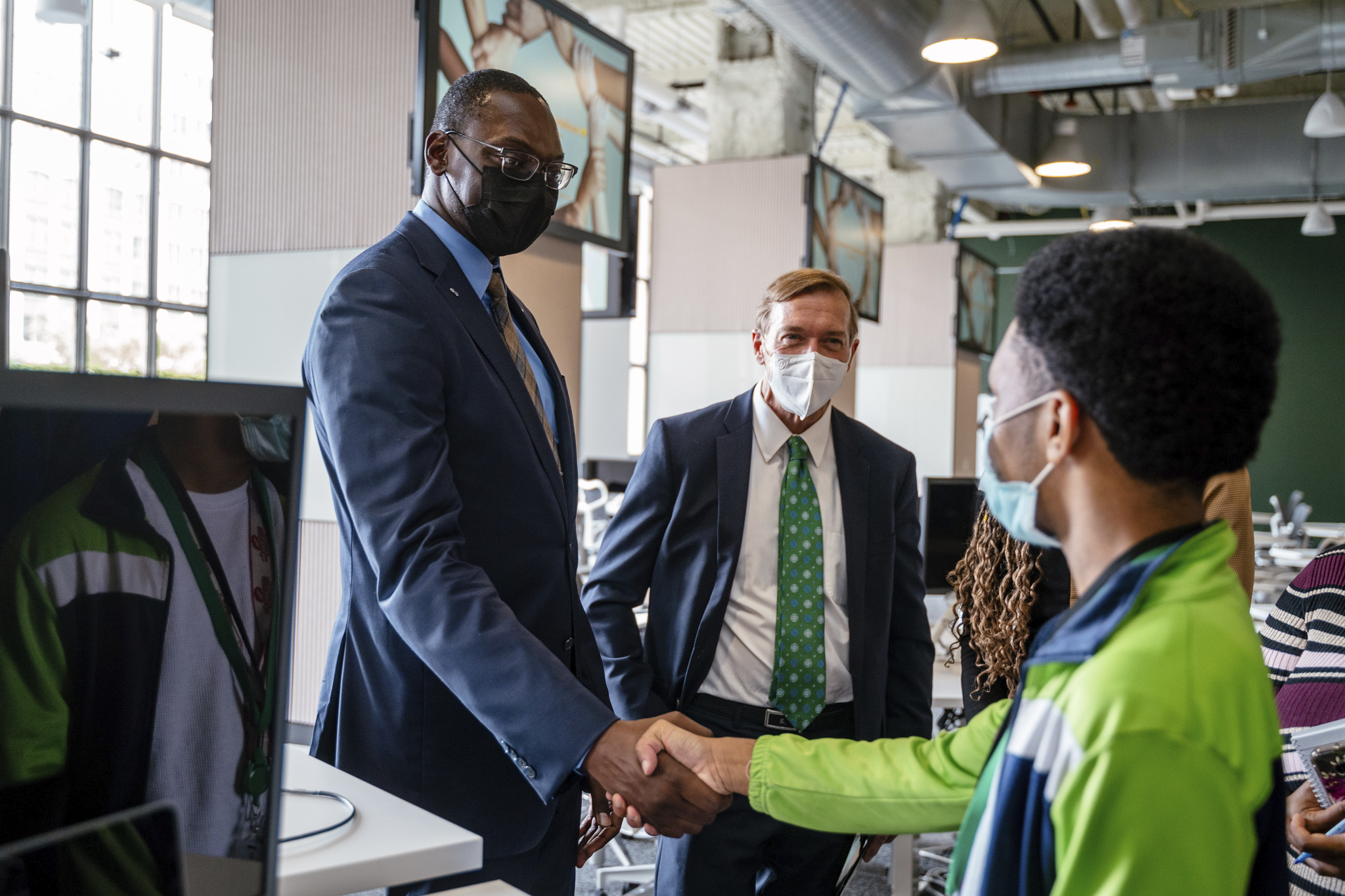 Michigan Lieutenant Governor Garlin Gilchrist and MSU Presidet Samuel L. Stanley, Jr., M.D. toured the Apple Developer Academy to explore the space, connect with students and learn about iOS curriculum (photo credit: Apple)
In addition to the fundamentals of coding, academy participants will learn design, marketing, project management and more — with an emphasis on inclusivity and making a positive impact in their communities. The academy is part of Apple's Racial Equity and Justice Initiative, an effort to address systemic racism and expand opportunities for communities of color across the country.
"We believe apps for everyone should be designed by everyone, and that all aspiring developers and entrepreneurs should have equal opportunity to be a part of the thriving app economy," said Lisa Jackson, Apple's vice president of Environment, Policy and Social Initiatives. "Detroit has an incredible entrepreneurial spirit, powered by creativity and inclusion, and we're thrilled to welcome this inaugural class of creators as we start classes at the Apple Developer Academy, the first of its kind in the U.S. Through the power of technology and innovation, we are proud to be helping prepare these innovators for new opportunities."
The academy curriculum is designed to ensure graduates have the full suite of skills to find and create jobs in the iOS app economy, which supports over 2.1 million jobs across all 50 states and continues to provide new economic opportunities for developers and their teams.
"Opening the doors to the Developer Academy is an incredibly exciting milestone," said MSU President Samuel L. Stanley, Jr. M.D. "Both MSU and Apple have a shared vision for advancing diversity, equity and inclusion in all that we do, and we believe the academy will reinforce Detroit's position as a Midwest hub for technology and entrepreneurship."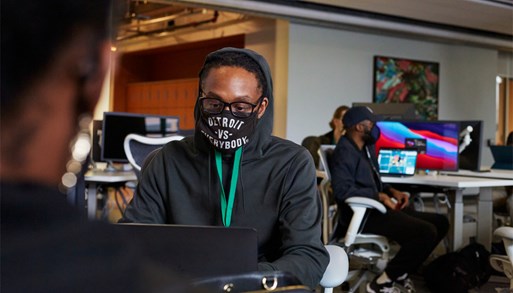 The Detroit Apple Developer Academy's first class is made up of a diverse group of 100 learners, ages 18 to 60, who will receive 10 months of comprehensive app development and entrepreneurial training, giving them the tools to create the next generation of cutting-edge apps. Enrollment is available at no cost, and students are not required to have any previous coding experience. Students in this year's class bring a breadth of personal, professional and academic experience to the program.
"Our goal is to create new pathways and new opportunities for a diverse group of 21st century tech leaders, and we're proud to be working with Apple to bring this vision to life," said Sarah Gretter, MSU's lead of the Detroit Apple Developer Academy. "I'm inspired by our first class of students and can't wait to see where this journey takes them — whether it's starting a new business, creating a new app, or developing marketable new skills."
Located in a new, custom-designed space in the First National Building in downtown Detroit, the academy welcomes students in person to an environment created specifically to facilitate collaboration and engagement. The Gilbert Family Foundation, in partnership with Rocket Companies, provided a generous gift to MSU in support of the Apple Developer Academy's efforts in Detroit and will continue to provide support as the academy grows and evolves.
Earlier this fall, the academy hosted a smaller cohort of community partners — including Boys & Girls Clubs of Southeastern Michigan, College for Creative Studies and others — for a four-week Foundation course to introduce the basic concepts of coding. The academy is expected to eventually teach close to a thousand students each year through the Foundation and Academy programs.
Meet the mentors for the first Apple Developer Academy cohort.