Rebekah Coleman is an MSU alumna who graduated from the College of Arts and Letters with a degree in theater in 2007. After graduating, Coleman obtained her law degree at Wayne State Law School, and went on to gain her Master's degree in Business Administration from the University of Detroit Mercy. Recently, Coleman became the first Black judge and first female judge for the State's 32A District Court. The following alumna voice is a repurposed story by Annie DuBois from the College of Arts and Letters website.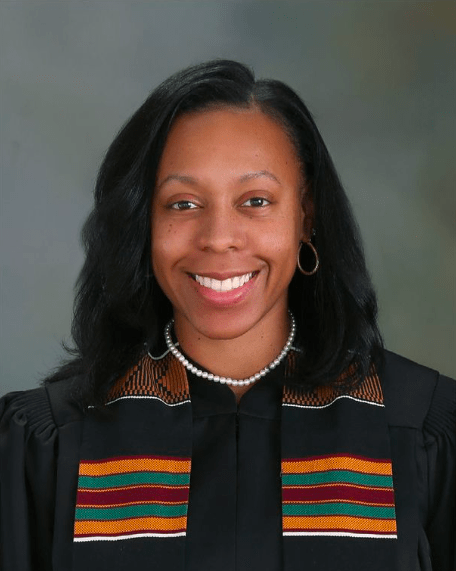 When asked how my bachelor's degree in theater led to my current career as a judge, I reply, "The courtroom is my stage."
Becoming the first Black judge and woman to hold this position really has opened a door, and it's showing young children and young girls, specifically, that we have this chance — and we can do it. We are out here. We are qualified, and we can do it.
As a judge, I plan to cultivate community programs that better address drug treatment, mental health and literacy.
What I've noticed in my practice is that, a lot of times, the contributing factors to crimes are drug use and lack of literacy skills. We were not necessarily addressing those in the ways that we need to, so I hope to develop different programs to help the community.
Growing up, the courtroom was like a second home to me, as my parents both pursued careers in law. My parents often took me with them to court, where I learned from their work ethic firsthand.
I learned more about the work ethic from that experience than anything else. Knowing how hard my parents worked to develop a practice really stands out to me and that really did help me in my own career.
From childhood to adulthood, my parents stood as an example for what I could achieve and, in a full-circle moment, my father, who also is a judge, swore me in as Michigan's 32A District Court Judge on December 28, 2020. Having my father swear me in was amazing. I think he may have been the only other person who was more excited than me.
And after earning my law degree, I opened my own private practice and earned an MBA. My time working within my own practice gave me the knowledge I needed to get to where I am today. Being in private practice is very fast-paced. I had to learn how to manage my time — my work and life balance. I've also been able to hone in on what my purpose is, and I believe it is to help and uplift people to help them become better.