Deandrea White, a senior in Michigan State University's James Madison College double majoring in social relations and policy and criminal justice, was selected as one of 212 students from 39 states, Washington, D.C. and Mexico to be named Campus Compact's 2021-2022 cohort of Newman Civic Fellows.
The Newman Civic Fellowship honors students who have demonstrated sincere commitments to finding solutions to issues facing communities throughout the country. White, a Detroit native, is devoted to making a change in her community and others across the world.
"Deandrea White is committed to the values of diversity, equity and inclusion," said MSU President Samuel L. Stanley Jr., M.D. "She works tirelessly to be an advocate and a resource to communities in need of support. She believes in democracy and demonstrates that belief in the activities and efforts she supports as a student and a citizen."
White grew up with a desire to not only be a part of her community, but an involved advocate for her city.
"My passion for civic and community engagement is heavily embedded in my upbringing and past experiences," White said. "Growing up, I always made it a priority to be involved in community projects and organizations, playing my part in the revitalization of my city."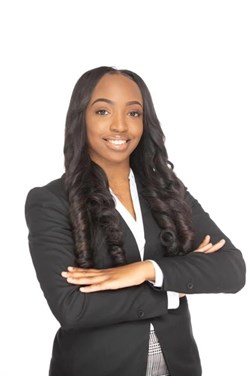 She recalls as a child going to community events, participating in service and even working with the Greening of Detroit, an urban revitalization organization. She found an opportunity to continue that work as a Spartan. White even learned more about her beloved city through her work with the City of Detroit's Department of Neighborhoods through MSU's Community Engaged Scholar Program.
"During my time with the City of Detroit, I helped to prepare a free tax preparation event and I saw the huge impact of something so minute," she said. "For these reasons, I am committed to making a change in my community and other communities across the world."
White said her "first, most impactful" moment as a Spartan was discovering the Community Engaged Scholars Program within the Center for Community Engaged Learning, or CCEL, under the direction of Renee Brown. She explained the program helped her grow as a student and a community servant.
"I chose this program because of my passion for community service and gained so many more passions in the process," White said. "The program trains you not only to be a community leader but it teaches you to be more open minded, communicate better and really how to assess problems and effectively find solutions given what's already available."
As part of her experience within CCEL in the Division of Student Affairs and Services and University Outreach and Engagement, White served as an MSU Democracy Fellow in partnership with MSUVote to promote and bring awareness to all civic duties and issues regarding the 2020 presidential election. She is also a member of Delta Sigma Theta Sorority, Inc., a predominantly Black sorority focused on providing assistance and support through established programs in local communities throughout the world. She said she will continue her community work and commitment to public service through her sorority.
Looking toward the future, White plans to take a gap year after graduation to gain experience in law or community development before entering law school.
"My ultimate goal, after obtaining my jurisprudence degree and becoming a licensed attorney, is to open up a neighborhood legal services clinic to provide legal aid for those of underrepresented populations," she said.
MSU is a long-standing member of the Campus Compact and was a founding institution for the organization over 30 years ago. MSU's president shares the compact commitment to the public purposes of higher education. Boston-based Campus Compact is a national coalition of colleges and universities committed to the public purposes of higher education. For more information about the Newman Civic Fellowship, visit Campus Compact's information page.