"Ask the Expert" articles provide information and insights from MSU scientists, researchers and scholars about national and global issues, complex research and general-interest subjects based on their areas of academic expertise and study. They may feature historical information, background, research findings, or offer tips.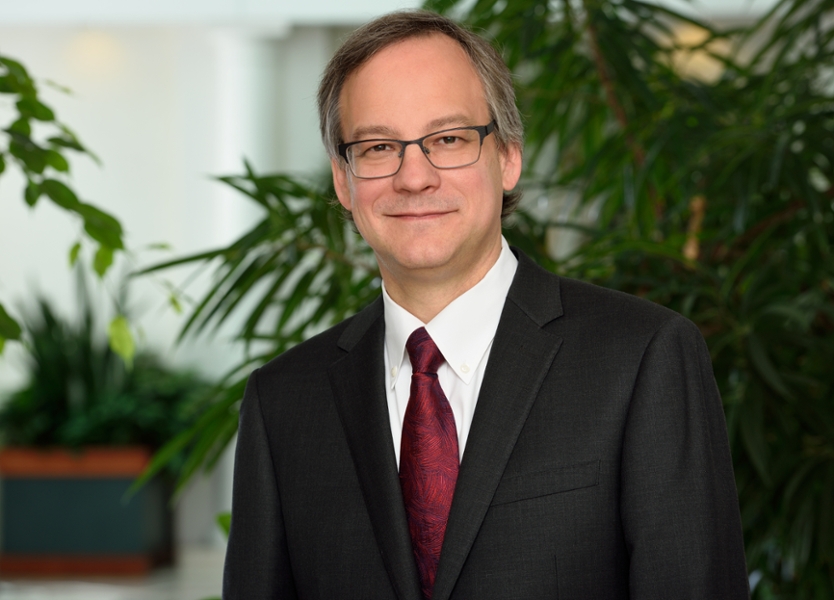 Aron Sousa, interim dean of the MSU College of Human Medicine, answers questions about COVID-19 booster shots recently approved by the FDA and CDC for adults 18 years and older.
Should I get a booster if I've already been fully vaccinated and had a breakthrough case of COVID-19?
Although there is not good data about an average person in that situation, benefit probably outweighs harm from the booster in this situation because the risk of harm from the vaccines is so low. Some suggest that you can or should wait 90 days after you've had COVID before getting a booster because you're pretty well protected by natural immunity for at least 90 days. If you are in any way immunocompromised, you should get the booster.
Am I fully vaccinated if I don't get a booster?
For MSU, you count as fully vaccinated without the booster, but you would be more protected if you got a booster six months after you were vaccinated with the Pfizer-BioNTech or Moderna vaccines. For Johnson & Johnson, you can get the booster two months after your initial vaccination.
If we need boosters, does this mean the vaccines aren't working?
No. The vaccines still work remarkably well. Just as natural immunity wanes months after infection with COVID, the immunity after vaccines tends to decrease over time. That is the same reason we have to repeat whooping cough (pertussis) vaccines periodically, because the immunity from the vaccine decreases over time.
Should I get a booster if I had COVID before I received the vaccine?
If you've had COVID, then you still should get vaccinated, but we don't have data yet that says you should then get a booster after you've had COVID and have received a vaccination. The most important thing, though, is to get vaccinated to begin with. Still, I would feel comfortable getting a booster because the vaccine is remarkably safe, but we do not have data to say you will get a lot of additional protection.
Do the boosters protect against COVID variants?
Yes. The booster vaccines are the same as what we used for initial vaccinations. So far, the mRNA vaccines (Pfizer-BioNTech and Moderna) in the U.S. do well against the variants in circulation. Part of the reason for the booster is some variants are more transmissible. The boosters ramp up the antibodies to help protect us from the highly transmissible variants, like the delta variant that is racing through Michigan now as it did back in April.
How long after the first booster should an immunocompromised person receive another booster?
Late in October, the CDC recommended that "moderately or severely immunocompromised people" should have a three-shot primary vaccine series with mRNA COVID-19 vaccines (Moderna or Pfizer). These individuals should get the first two shots as any other adult would and then get a third shot more than 28 days after their second shot. After that three-shot "primary series," moderately or severely immunocompromised people should get a "booster shot" just as other adults would, namely, six months after finishing their primary three-shot vaccination series.
Should those who are pregnant get a booster?
The CDC has approved the vaccine booster for pregnant and lactating women. COVID-19 is a bigger risk to pregnant than non-pregnant people, so, getting vaccinated is the most important step. And then, if you are pregnant and due for the booster, you should get the booster because the data is becoming clearer that COVID-19 is an added risk for bad outcomes in pregnancy.
Should I mix boosters (Pfizer-BioNTech and Moderna, and vice versa)?
You can, and it's probably a good idea. When you get a booster that is different from your primary vaccine, your body makes a slightly different group of antibodies from the new vaccine. That creates added protection. It's particularly true if you got Johnson & Johnson as your primary vaccine.
Can I get a flu shot and booster at the same time?
Yes, according to the CDC, you or others seeking the flu shot and the COVID-19 vaccine can get them during the same visit to your doctor's office or pharmacy. That applies whether you're getting your first dose of a COVID-19 vaccine, your second dose or a booster shot.
Will we have to get a booster every year like we get flu shots?
We don't know yet, but probably not. We get flu shots every year because the flu virus changes every year. Coronaviruses don't have the same mechanism of changing their proteins as the influenza virus does. You might need to get periodic COVID boosters for the same reason we get pertussis or tetanus boosters, because of waning immunity, but probably not every year. We just don't know yet.