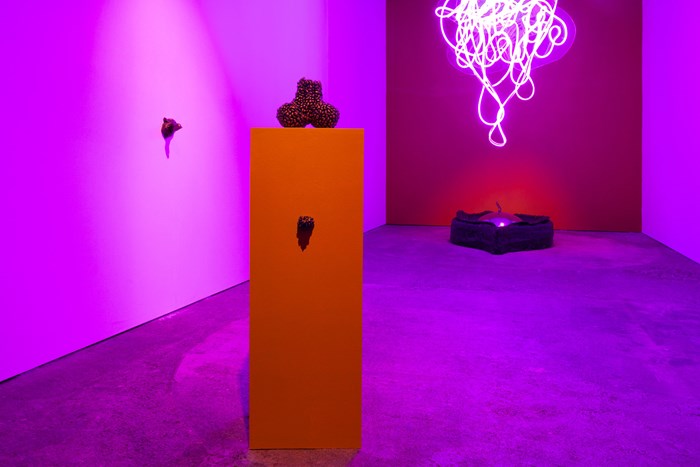 This year's College of Arts and Letter's Artist-in-Residence of Critical Race Studies is Young Joon Kwak, a multidisciplinary artist who works primarily through sculpture, performance, video and collaboration.
The Critical Race Studies Artist-in-Residence program, offered by the Department of Art, Art History and Design, will give Kwak the opportunity to produce a substantial public project that engages in critical approaches to diversity and inclusion through creative practice. Kwak also will teach courses in the Department of Art, Art History and Design and participate in outreach to the community throughout the year.
"Young Joon is an extraordinarily accomplished sculptor and performance artist, normally based in Los Angeles, whose work sits at the intersection of critical engagements with race, sexuality and gender identity," said Karin Zitzewitz, Interim Director of the Department of Art, Art History and Design. "They were immediately attracted to the challenge of teaching studio art remotely and have been thinking carefully about how their interactions with students and exhibition work can accommodate the circumstances of the pandemic."
As a multidisciplinary artist, Kwak's work reimages the form, functionality and materiality of objects. As the 2020-2021 Critical Race Studies Artist-in-Residence, Kwak will develop a project that uses the symbol of the Spartan to explore ideas around monuments and symbols of identity and collectivity.

"I am looking forward to the process of connecting and collaborating with students, faculty and other members of various communities in the university to show how art allows us to respond to the issues that matter deeply to our everyday lives, and can connect us to each other during this time of social-distancing," Kwak said.

The Critical Race Studies Residency program was established in 2017 thanks to a $750,000 gift from the Michigan State University Federal Credit Union. The MSUFCU gift is being spread out over a five-year period (2018-2022) in annual installments of $150,000.