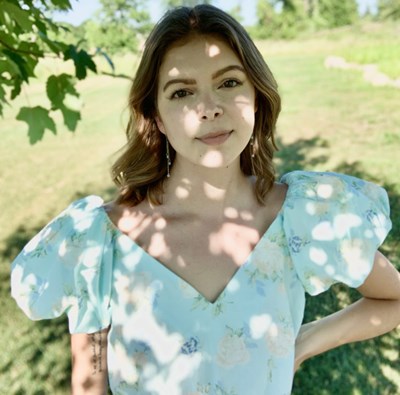 Maddy Eischer is a junior double majoring in apparel and textile design and genomics and molecular genetics in the College of Arts and Letters and College of Natural Science.
Like most kids growing up, I vacillated between career paths just about every day, but I never really had one dream occupation. This was, and still is, mostly due to my wide breadth of interests in a plethora of fields.
I have been sewing and making art since I was a young kid watching Project Runway with my grandma; I also have always excelled in math and science, and I love learning about why things are the way they are. These varied interests were easy to maintain up until my senior year of high school.
Senior year I had to determine where I'd apply to college. Nearly everyone I chatted with said something along the lines of "Don't choose based on the school itself; choose based on what you want to do," and it was then, at the ripe age of 17, I had my first mini-life crisis. I realized in that moment that I couldn't decide where I wanted to go to school because I truly wanted to do many different things.
I was so indecisive that my mom actually set a deadline for me to choose a school. Finally, when I announced my decision, it seemed to come out of the blue but, in reality, there were a lot of factors that drew me to MSU such as the weekend I competed in the Alumni Distinguished Scholarship competition, an invitation to be part of the Honors College, receiving enough credits from AP classes that I could then double major and still graduate in four years… just to name a few.
My double major in apparel and textile design and genomics/molecular genetics is admittedly an odd combination, but each day I get to bounce from studio-based sewing classes to genetics-focused lab sessions, and I couldn't be happier. That being said, my undergraduate time has not been without some self-doubt.
The analytical realist in me was very stubborn in allowing me to major in two fields that do not fit together, but upon many conversations with people I trust and a lot of self-reflection, I realized that I cannot exist without these two sides of my personality.In doing research into various career paths, I have come to understand that there won't ever be a "perfect" occupation for me, but there are always creative ways to combine my interests.
This past summer, I did just that by starting a face mask business. I was able to spend my days sewing and making products that serve a public health purpose, and I even got to add a bit of political activism into my work by making masks encouraging people to vote and protest safely.
This was the first time I got to see my contrasting majors really working together and, while I am not planning on going into mask-making full-time, this business has helped to teach me that there are always ways to combine my passions and that I never have to sacrifice part of myself for my future career.
I still am not 100% sure as to what my future holds, but my current post-graduation plan is to apply to medical school to study dermatology. I have also thought about forensics and possibly even designing fashionable lab coats and scrubs, but I have finally begun to accept that I do not know exactly what my life is going to look like and that is completely okay.