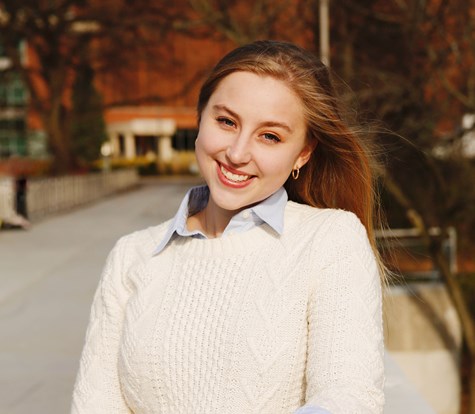 Emma Frick is a senior majoring in international relations and social relations and policy in the James Madison College. She is a leader in the JMC Human Relations Lab.
I've been a Spartan all my life. Both my parents went to Michigan State as undergraduates, so many of my memories as a child revolve around MSU. My parents told me stories about all of their crazy times in addition to giving me a list of all the best restaurants in town (Crunchy's and El Azteco topping the list, of course) as they drove me to Case Hall to begin my freshman year. As they left me in the same dorm hall where they met their freshmen year, they left me with one last parting thought, "Here is where you are going to find your passions and a place where you belong."
Throughout my freshman year, I joined various clubs and met many people as I looked for that special place where I would belong. Like many people who have the wisdom of surviving freshman year of college, that first year is all about trying different avenues of interest; what does or doesn't work, what you do or don't like. As I started my sophomore year, I was beginning to feel like maybe I wasn't going to find my people and niche.
One day, walking along the third floor of Case, I came across a flyer promoting a relatively new club called the Human Rights Lab. It looked mildly interesting, so I decided to give it a shot. I went to an informational meeting and listened to the head professor and student lab leaders talk about the type of projects they were working on and the type of organizations they were working with. They talked animatedly about researching and investigating international crimes and human rights violations. This piqued my interest immensely. I felt excited and hopeful that I had found my passion and place at MSU.
Throughout the spring semester of my sophomore year, I worked every Friday for five hours with a group of 12 people (split into three different projects). Each week I would come in feeling more and more connected to the work and people in the lab as we diligently collected evidence of state-sponsored village burnings in Myanmar. At the end of the semester, all of our hard work paid off when we heard news that the data we had collected was being used to file for a formal investigation to take place in the International Criminal Court.
At the end of my first semester with the lab, I not only was asked to become one of the student lab leaders, but I also felt like I had finally found my place and home at MSU. Now as a senior, I can confidently say that the Human Rights Lab has been the highlight of my time at MSU. In the lab I found a passion for open source analysis and investigating international crimes — a path I intend to follow after graduation. Being a part of the Human Rights Lab, I feel like a Spartan.