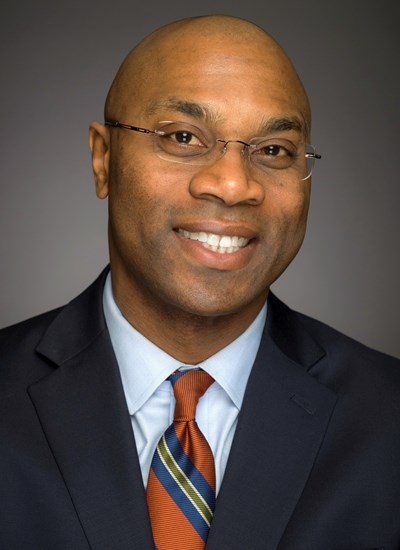 Following a national search, Michigan State University President Samuel L. Stanley Jr., M.D., named Jabbar R. Bennett as the university's vice president and chief diversity officer.
Bennett most recently served as Northwestern University's inaugural associate provost for diversity and inclusion and chief diversity officer. Stanley initially announced the search in January.
"The vice president and chief diversity officer role has never been more important," Stanley said. "While our country may often seem divided, as Spartans we celebrate our differences and value the contributions of every member of our community. MSU's chief diversity officer will help us discover ways to further transform equity and inclusion in our community."
To craft the description for the new role, the university held several meetings with student groups and university administrators. The search committee held additional meetings with students, faculty and staff and received input from multiple stakeholder groups. More than 70 potential candidates were considered during the search.
"We reviewed an excellent pool of candidates and had a difficult time narrowing it down to four finalists," said Chris Long, dean of the College of Arts and Letters and search committee co-chair. "The search committee was broadly representative of our community and brought a deep commitment to integrity and transparency to the search process. The passion for diversity, equity and inclusion work on campus is truly inspiring."
In late summer, four finalists each met virtually with faculty, staff, students and university leaders including the Board of Trustees. Candidates also delivered public presentations during an open forum. Participants had the opportunity to provide feedback on each finalist to the search committee. Hundreds of comments were catalogued.
"Without question selecting the best candidate for this role was an open and thorough process," said Melissa Woo, executive vice president for administration, chief information officer and search committee co-chair. "We listened to our community's concerns and priorities for this position and reviewed candidates based on who could meet those needs."
Comments from additional search committee members are available on the president's website.
As vice president and chief diversity officer, Bennett will report directly to Stanley. He'll collaborate with other university senior executives, deans, faculty, staff, students and alumni to develop and implement a comprehensive diversity, equity and inclusion plan. The university is in the process of finalizing a faculty appointment for Bennett.
"This is an incredible opportunity to help advance inclusion efforts at MSU during this critical time in the history of the institution and our nation," Bennett said. "There is a rich legacy here founded in the ideal that higher education should be accessible to everyone regardless of race, ethnicity, sex, gender identity or expression, religion and other identities. I look forward to working with this community to address unique challenges, find common understandings and leverage collective efforts to nurture a culture of inclusive excellence at the university."
Bennett joined Northwestern University in 2015 after working at Brown University as associate dean for recruiting and professional development in the Graduate School, associate dean for diversity in the Division of Biology and Medicine and clinical assistant professor of medicine at The Warren Alpert Medical School. Bennett previously lectured on medicine at Harvard Medical School and is an alumnus of the Harvard University Administrative Fellows Program and Massachusetts Education Policy Fellowship Program.
Bennett received a bachelor's degree in biology with a minor in Spanish from North Carolina Agricultural and Technical State University. He has a doctorate in biomedical sciences from Meharry Medical College in Nashville, Tennessee.
Bennett's appointment is subject to approval by the Board of Trustees at its next meeting on Oct. 30. His planned start date is Dec. 1.
Listen to Long and Woo talk about the search process.