For the past several months, MSU's Apparel and Textile Design (ATD) faculty, alumni, and students have used their skills and contributed their time in the fight against COVID-19 by constructing masks and teaching others how to make their own through an online video.
These students, faculty, and alumni were encouraged by a social media campaign that shared information about ways to proactively address the pandemic, which was initiated in March by ATD faculty member Therèsa M. Winge. In her message, Winge stated how ATD students and alumni are uniquely positioned to quickly mobilize to make masks and assist those in need by drawing on basic skills from the discipline.
Making Masks
Recent ATD graduate, Noel Thomas, has been making masks to donate to the local community and is shipping some to other states such as Pennsylvania and California.
"Times are uncertain for many, and safely lending helping hands where we can, even in small ways such as making masks, can have a significant impact," Thomas said. "I'm proud to have a degree that is essential during this time and gives me the ability and skills to make a difference."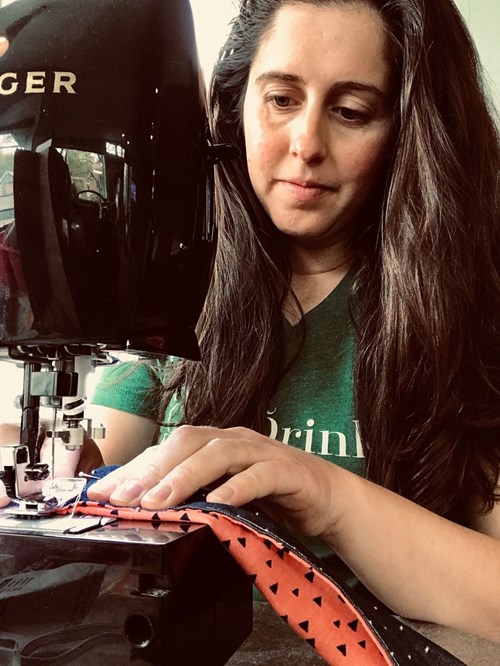 Apparel and Textile Design alumna Anna K. Thelen stitches masks for local essential workers.
Recognizing the demanding and all-consuming needs of parents and children at this time, ATD alumna Anna K. Thelen is organizing efforts to make masks for children as an extension of her children's wear design entrepreneurship.
"To date, I've made 1,134 masks and nine isolation gowns," Thelen said. "During this time, I was able to provide work for four local women. Having help with various parts of the production of the masks certainly helped me to be able to produce the often-large quantities."
Thelen is not alone in her efforts. A local sewing group run through Seams Fabric has been a great resource for patterns, supplies, and emotional support as the making of PPE products is a weighted task.
"Many of the masks have been donations to medical and front-line workers across the country," Thelen said. "Donations from my family and friends, as well as community members I've never met, have helped maintain supplies and cover shipping costs."
Taking a designer's approach to mask creation, Jenna Wood, a junior ATD major, designed and created a mask using materials found in her hometown of Harbor Springs, Michigan. The materials, which included birch bark and porcupine quills, were all gathered naturally to create a mask that is meant as a visual commentary on past devastation in the Indigenous community and current uncertainty.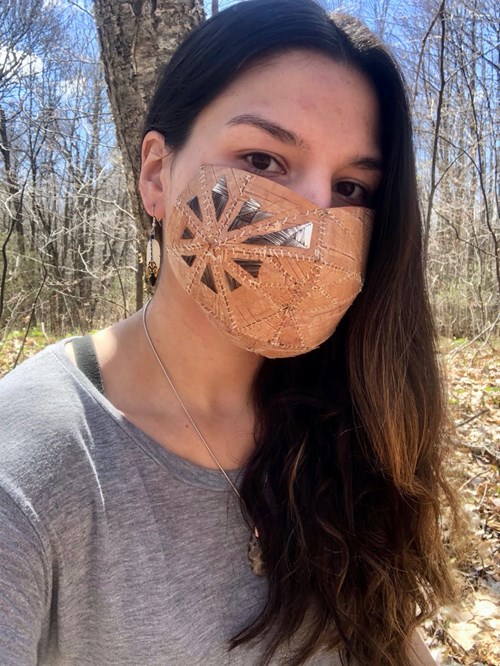 Apparel and Textile Design junior Jenna Wood designed and constructed this mask
made of birch bark and porcupine quills in solidarity with her Indigenous community.
Wood said she hopes her mask conveys the following message: "In the 1830s, settlers came to the Harbor Springs area and brought diseases with them, one of which was smallpox. The Anishinaabek did not have any immunity to this disease or medicines to effectively treat it. Many of them began to self-quarantine away from their community. It is estimated that about 90 percent of the native population in this area died from a smallpox outbreak. This mask is a tribute to all of my ancestors and relatives who had to self-quarantine in the harsh conditions of Northern Michigan during that outbreak. As I go through the slow and meticulous process of quill working in these uncertain times of modern quarantine, this mask and its process also serves as a reminder for myself that resilience and the will to survive runs through the blood in my veins."
How to Mask-Making Video
ATD alumna Jessie Moyer, who is a Lead Product Engineer at Magna International, collaborated on a mask-making video that was posted to YouTube. The instructional video focuses on mask making for personal use with an added filter.