Michigan State University diagnosticians are now processing COVID-19 tests collected daily at campus building sites. The College of Veterinary Medicine's Veterinary Diagnostic Laboratory has the capacity to analyze 1,000 human tests for positivity daily with results available to MSU Health Care in 24 hours.
"The laboratory has proven invaluable to the state of Michigan when we have faced threats to animal health. Now, we can provide support as we face perhaps the greatest human health threat of our lifetimes," said VDL's Interim Director James Averill. "We're here and we're ready."
MSU veterinary medicine experts began monitoring SARS-CoV-2 in late January and soon developed a test for animals. At the same time, they used protocols from the Centers for Disease Control and Prevention to set up and validate a diagnostic test for human samples. In late July, the MSU reopening task force reviewed the lab's capabilities and asked for expanded capacity to help protect the campus community.
"Veterinary medicine might not be the first line of defense against COVID-19, but these health care professionals have the skills, knowledge and competency to make an impact. Personnel at the VDL have deep expertise and experience with many methods to rapidly identify diseases, as well as proven capabilities to provide high-volume testing in outbreak situations," said Rachel Reams, VDL's outgoing director.
The VDL — fully accredited by the American Association of Veterinary Laboratory Diagnosticians — is uniquely positioned to step in and support COVID-19 testing during the current health crisis when laboratory capacity and rapid turnaround time is crucial for identifying and controlling community spread. The lab is not operating as a sample collection site.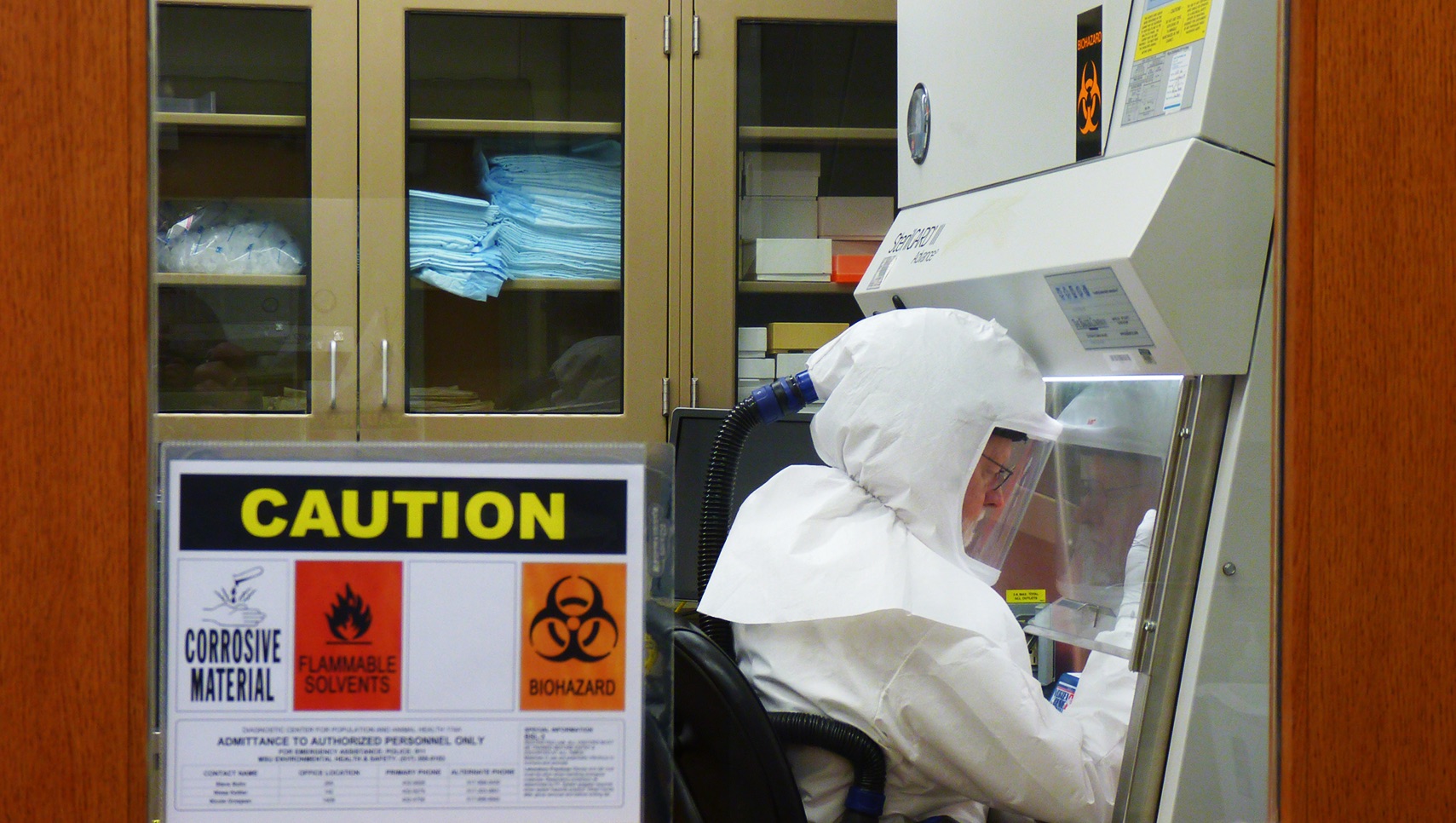 Testing human samples for SARS-CoV-2 began in the Veterinary Diagnostic Laboratory's Biosafety Level 3 Laboratory. Samples are handled in biosafety cabinets by personnel wearing a powered air purifying respirator (PAPR).
"Our team is well-versed in processing infectious disease samples, including those with potential to infect humans. In fact, the building was designed to facilitate testing for a zoonotic disease outbreak, with enhanced biosafety spaces for safe handling and containment of high-consequence diseases," said Steven Bolin, professor and VDL associate director.
Bolin and a team of six laboratory technologists in the VDL's immunodiagnostics section were responsible for setting up and conducting SARS-CoV-2 testing.
"What we did not expect when designing the building safety features was that we would be called upon by our human health colleagues to respond to a human health crisis of this magnitude. In the last four months, we spent hundreds of hours creating, obtaining and evaluating methods, reagents and equipment for diagnostic use in animals and humans for detection of infections with SARS-CoV-2," Bolin said.
The VDL diagnosticians faced a challenge switching from animal samples to human samples. While the procedures, supplies and equipment are similar for each, human testing is regulated by the Centers for Medicare and Medicaid Services through the Clinical Laboratory Improvement Amendments, or CLIA. Establishing standard operating procedures for human testing and securing supplies were only part of the process.
The diagnostic team partnered with John Gerlach, Olin Student Health Center laboratory director and program director of MSU's Biomedical Laboratory Diagnostics program, to oversee testing of human samples at the VDL. Samples are collected by MSU Health Care personnel and transferred to the VDL for testing.
"It was a very short hurdle to have the VDL CLIA ready. The accrediting body they already work under has many of the same goals and similar regulations. It was really a matter of aligning documentation of compliance with Olin's process," Gerlach said. "The VDL has a great group of dedicated laboratory professionals."
Bolin and others at the laboratory worked closely with both Gerlach and officials at the Michigan Department of Health and Human Services, especially those at the MDHHS laboratory, to ensure that the VDL was prepared to begin testing when needed.
To help the VDL increase potential test capacity from 100 samples to 1,000 samples per day by September, MDHHS provided a test kit for the team to adapt and verify a procedure that can run three times more samples than the standard CDC format. MSU President Samuel L. Stanley Jr., M.D., prioritized funding to cover start-up costs for additional resources to achieve capacity goals. Despite supply chain challenges, the new instruments arrived days before the first samples were delivered for testing.
The VDL is a premier, full-service, fully accredited veterinary diagnostic laboratory for all species. On average, the lab performs one million tests per year on approximately 200,000 cases for more than 300,000 animals. The VDL is a member of key federal networks charged with protecting human and animal health. Its core diagnostics, innovative solutions and expert service has earned it clients in all 50 states, U.S. territories and more than 20 foreign countries. The lab serves about 9,000 clients per year.