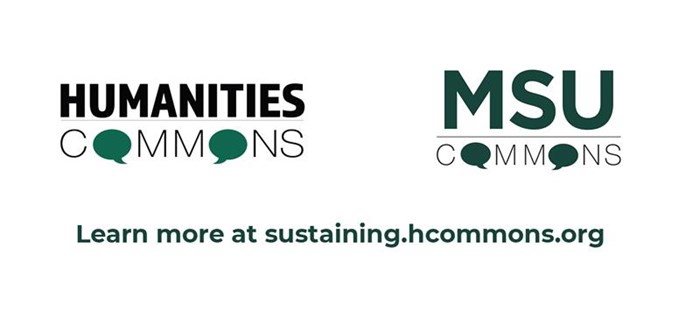 Michigan State University has taken over hosting and development of Humanities Commons, an online network for people working in the humanities. The site was launched by the Modern Language Association in December 2016 and has become a key piece of online scholarly infrastructure with nearly 25,000 users. The transfer to MSU provides an institutional home that gives the platform a more flexible fiscal sponsor with the technical and governance experience to continue the growth and expansion of the site while ensuring its sustainability.
"We are thrilled to host and support this scholars-led initiative as we seek to enrich communities of scholarship and share new discoveries across STEM, the arts, social science and the humanities endeavors," said Christopher Long, dean of the College of Arts and Letters. "Humanities Commons has truly differentiated itself by providing a virtual nonprofit platform where scholars can develop meaningful connections to enhance research and teaching across interdisciplinary fields of study."
MESH Research will oversee the Commons ongoing development and is uniquely positioned within the university to oversee the development of the Commons platform. MESH is a collaboration of the College of Arts and Letters and the MSU Libraries and is an agile, open-source research and development team focused on the future of digital scholarly communication. MESH supports the growth of both the community facilitation and developer networks needed to enable 21st-century research.
"We celebrate all that Humanities Commons represents: access, equity, inclusion, connection and scholarship. Part of our mission is to facilitate connections that support research, teaching and learning in our local and global communities, and Humanities Commons encourages these connections," said Joseph Salem Jr., dean of MSU Libraries. "We're excited about the interdisciplinary partnerships this platform will enable, and we're excited about the expanding role MSU Libraries are playing in our wider academic community. Our partnership with the College of Arts and Letters keeps growing, and we value the collaborative research and development unit we've built together. With MESH and with Humanities Commons, we're advancing digital work in support of scholarly communications, and we're advancing equal access to information for all."
Under MESH's guidance, the Humanities Commons platform is growing. It enables users to make interdisciplinary connections, access scholarship and teaching materials, increase the impact of their work by publishing it in the CORE open-access repository, and create a website to extend the reach of that work. The platform hosts a number of society nodes including MLA Commons,
ASEEES Commons, UP Commons, as well as SAH Commons and ARLIS/NA
Commons in the coming months. Additionally, the Commons is opening participating organization membership to colleges and universities in order to provide an academy-owned alternative to commercial repository, publishing and profile services. MSU is piloting institutional membership through MSU Commons, which launched in beta in June.
"Openness is simultaneously the greatest strength of the network and its greatest challenge," said Kathleen Fitzpatrick, director of digital humanities and professor of English. "Commons values are deeply rooted in openness, equity and inclusion. In that spirit, it is crucial to build a network that was and would remain free and open to anyone who wanted to create an account. Humanities Commons thus embraces a form of open access that is not just accessible to all readers, but accessible to all participants.
The Commons has developed a set of bylaws for the network to ensure that participating organizations and end users both have a voice in the development of the Commons now and in the future.
As the platform opens membership in the Commons to colleges and universities, there is a need to support all members of those institutional communities. As a result, Humanities Commons will soon be joined by disciplinary hubs dedicated to the social sciences and to STEM fields. A new top-level hub — the Commons — will be launched to support cross-disciplinary collaborations.
Visit the Sustaining The Commons website (sustainingthecommons.org) for more information on this important step in the platform's future.