Because children exposed to HIV face many stresses as they develop, Michigan State University researchers are working to better understand how different factors affect children's health and cognition.
With more than $2.7 million in funding from the National Institutes of Health, the researchers will develop a risk assessment index to identify children at risk of biological, psychological and social problems.
"We've come a long way in terms of medical treatments, but life with HIV remains complicated and social conditions remain important," said lead investigator Amara Ezeamama, an assistant professor of psychiatry in the College of Osteopathic Medicine. "This project advances the science needed to ensure that all children survive and thrive cognitively."
Once the researchers create and test their predictive index, their ultimate goal is to connect at-risk children with support systems to foster healthy development.
"The results of this project will help prevent and ameliorate cognitive problems," said Alla Sikorskii, a professor in the Department of Psychiatry, and a co-investigator on the grant. "I am delighted to bring my methodological and statistical expertise to make sure cutting-edge methods are used to develop and validate this predictive index."
Fellow Spartans Norbert Kaminski, a professor in the Department of Pharmacology and Toxicology, and Jenifer Fenton, an associate professor in the Department of Food Science and Human Nutrition, are joining Ezeamama and Sikorskii on the project. Outside collaborators include Bruno Giordani, a professor at the University of Michigan; Ming Zhang, an associate professor at the University of Georgia; and Sarah Zalwango, a supervisor of medical services in Kampala Capital City Authority in Kampala, Uganda.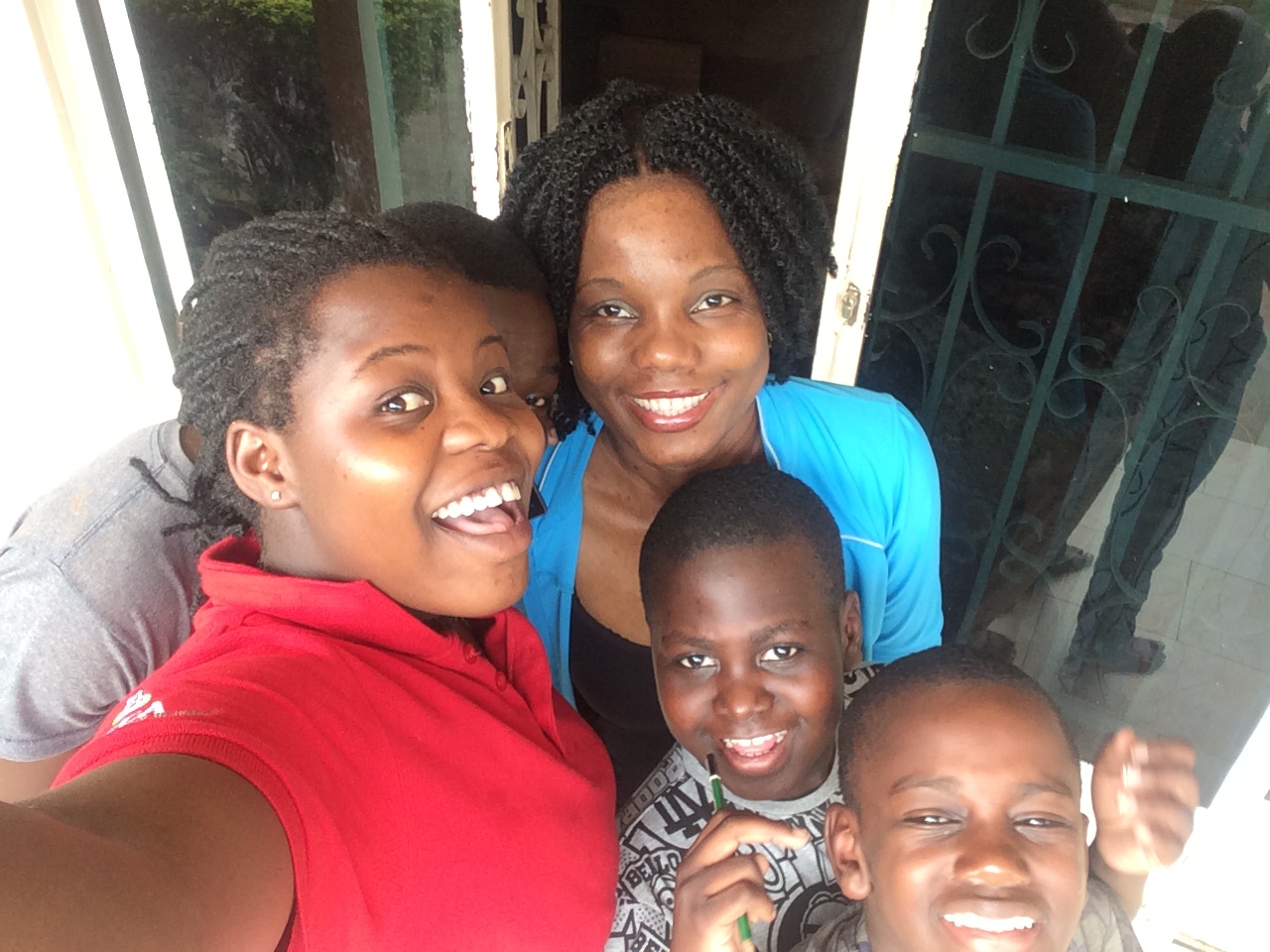 Amara Ezeamama (center, in blue) poses for a photograph with friends in Kampala, Uganda in 2017. Photo courtesy of Amara Ezeamama.
The team is developing their risk assessment tool in Uganda, where Ezeamama has been working with families since 2016. But Ezeamama added that risk factors are applicable across the world, meaning the tool could also be helpful in different locations. For example, children in the United States could be proactively identified and linked to existing support systems, Ezeamama said.
"Our goal is to risk stratify. That is, based on what we know about a child, are they likely to have a poor cognitive trajectory? If so, can we get support from health care, educational, social workers to mitigate risks?" Ezeamama said. "In the U.S., these support systems are in place, but they do not necessarily account for the elevated risks for children living with HIV or who were exposed to HIV in early life but were not infected. This work will help determine whether these systems are missing a segment of children who ought to be targeted for participation in their programs."
The team has been monitoring a total of 750 children in Uganda who fall into three different categories: children who have had no exposure to HIV, children who are living with the virus acquired from their mothers and children who have been exposed to HIV through their mothers but not infected.
The researchers have found that children with HIV and who have been exposed to the virus can be as happy and healthy as children who have not been exposed. But many psychological and social factors beyond a child's control, such as poverty, stress and discrimination, make thriving challenging.
Kids can be bullied and stigmatized for their connection to a home affected by HIV. Compared to HIV-negative parents, parents with HIV face a heightened risk of premature death and have harder times keeping stable jobs when their employers know about their health. Stressors like these weigh on children and can hinder their healthy development.
On the biological side, the effects of the virus on the brain may vary with different strains or genotypes of the virus. Malnutrition, which has a strong impact on immune function and general health, is another critical variable that affects brain function. Furthermore, researchers want to better understand how antiviral drugs that some mothers with HIV must take during pregnancy affect the long-term cognitive development of their children.
The MSU team is building its tool by understanding which stressors are present in a child's life and to what extent, along with how those disrupt a child's ability to learn, behave and function.
Developing interventions to help children facing high risks will be the subject of future work, but the team has already observed compensating factors that can make a positive difference. For example, parents, teachers and other adults in children's communities can help reduce stigma, bullying and other psychosocial strains. Good nutrition helps on the biological side by bolstering children's immune systems in their fight against the virus.
Whatever the source of stress, the good news is that it can be moderated, Ezeamama said. Fighting it boils down to giving all children what they need to be as resilient as possible. ­­
"Human beings are incredibly resilient," she said. "Even when they are vulnerable."