Andrea Weinrick earned her B.A. in criminal justice ('05) and is currently pursuing her Master's in public health ('21) in the College of Human Medicine and a doctorate in veterinary medicine ('22) in the College of Veterinary Medicine.
When I was six, I used to introduce myself to new people by stating my name and my future career goals of becoming a veterinarian. In my teenage years, I brought home a variety of stray and wild animals that needed "saving." In 1998, I started my freshman year at MSU with the full intention of getting a degree in animal science and eventually applying to vet school. I always knew veterinary medicine was my calling, but what I didn't know is that I'd take the scenic route to get there.
My journey to vet school has been somewhat unconventional to say the least. After struggling at MSU my freshman year, I decided to postpone a college education and join the military. It was there that I met my husband, and after eight years of service, I left the military to raise our children full-time. I eventually made it back to MSU, where I graduated with a B.A. in criminal justice in 2005.
The summer before our youngest child started kindergarten, my husband and I talked about what career I wanted to pursue now that all our kids would be in school full-time. We brainstormed options and various careers within the criminal justice field, yet none were appealing. My husband finally asked me what career I would choose outside of my degree field. I've always been happiest around animals, and I had some regrets that I never made it back to veterinary medicine. He told me to go for it, to which I replied that he was crazy. But after some long discussions on logistics, time commitment and finances, we made the leap.
I got in. Now what?!
After several years of prerequisite courses and one application cycle, I was accepted to MSU's College of Veterinary Medicine. I was elated and then panic set in almost immediately. What if I wasn't good enough? What if they made a mistake? What if I'm too old for this? Will my family resent me? How will I manage kids, vet school and life? I was terrified I'd made a huge mistake and was certain I'd be the oldest student (I'm not) and I'd definitely be the only parent (again, I'm not). I worried about fitting in, making friends with people half my age and having time to explore clubs and activities outside of vet school.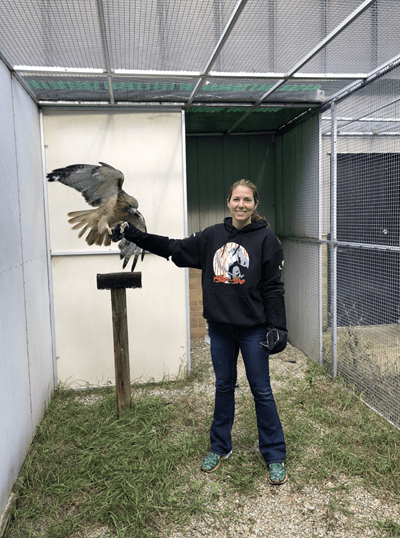 These fears, while real, were unfounded and I wasn't giving myself (or anyone else) enough credit. I bonded with a core group of women who have supported me whenever I needed a helping hand, a study buddy or a shoulder to cry on — even when they know nothing about the stress of raising a family while completing a doctorate. Many of my classmates and professors have given me praise for taking on a second career while raising a family, and the college has been nothing but supportive. I've served on executive boards of several veterinary clubs and organizations, taken trips to conferences out of state and worked a regular job in the MSU Veterinary Medical Center. There are things I've missed out on, but I can't do everything, so I prioritize the most important experience.
Read more about Weinrick's 'scenic route' at the College of Veterinary Medicine.