Wade Fisher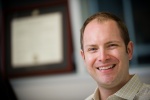 Click on the image to view a larger or high-resolution version.
Particle physics and Higgs boson
Assistant Professor
Expertise:
Wade Fisher is an expert in the field of high energy physics, or particle physics, which is the study of the most basic building blocks of the universe and the fundamental forces through which they interact. In particular, he has conducted research related to the search for the Higgs boson particle.