Thomas Holt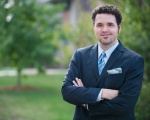 Click on the image to view a larger or high-resolution version.
Cybercrime, cybersecurity and identity theft
Professor
School of Criminal Justice
College of Social Science
Contact at: (517) 353-9563 or holtt@msu.edu
Expertise:
An expert on the issues of cybercrime, computer hacking, data breach, malware and the role of the Internet in facilitating all manner of crime and deviance. Holt has researched global online credit attacks, cybercrime profits and other cybercrime issues.