Theresa Winge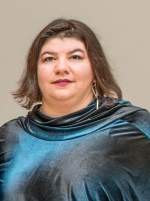 Click on the image to view a larger or high-resolution version.
Fashion, Culture and Dress
Assistant professor of fashion design
Art, Art History and Design
College of Arts and Letters
Contact at: (517) 353-3938 or winge@msu.edu
Expertise:
An expert on cultural expression, Theresa Winge focuses her research on the construction and deconstruction of visual and material cultures. She examines subcultural dress for its meanings and construction of identity. She stays abreast of fashion trends and is especially interested in sustainable design.