Steven Anderson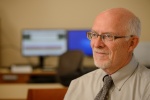 Click on the image to view a larger or high-resolution version.
Poverty, social services and social welfare policy and politics
Director and professor
School of Social Work
College of Social Science
Contact at: 517-355-7515 or stevea@msu.edu
Expertise:
Researches poor families' access to social benefits, and policy and program strategies that improve access to those services. Before entering academia, Anderson was associate director for human services for the Michigan House Fiscal Agency where he was responsible for the annual development of the social services budgets for the Michigan House of Representatives.
Additional information:
In his new book, "New Strategies for Social Innovation," Anderson finds that market-based approaches to social problems in the developing word can be effective, but have been over-hyped and should be viewed as supplements to government programs.