Stephen Hamilton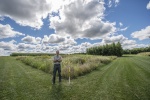 Click on the image to view a larger or high-resolution version.
Aquatic ecosystems including wetlands, streams, rivers and floodplains
Professor of Ecosystem Ecology and Biogeochemistry
Kellogg Biological Station
College of Agriculture and Natural Resources
Contact at: (269) 671-2231 or hamilton@kbs.msu.edu
Expertise:
Ecosystem ecology and biogeochemistry, with particular attention to aquatic environments and the movement of water and nutrients through landscapes, as well as the ecology of agricultural systems.
Additional information:
In addition, Hamilton is an expert of the environmental impacts of oil spills.