Sean Valles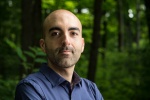 Click on the image to view a larger or high-resolution version.
Climate change, environment, ethics and philosophy
Assistant Professor
Department of Philosophy
Lyman Briggs College
Contact at: (517) 884-0592 or valles@msu.edu
Expertise:
With dual appointments in Lyman Briggs College and the Department of Philosophy, Sean Valles is an expert in environmental philosophy, focusing on ethical issues surrounding climate change, population growth and evolutionary biology. His research spans a range of topics related to philosophy of population health, from the use of evidence in medical genetics to the roles played by race concepts in epidemiology.