Salah Hassan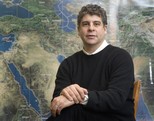 Click on the image to view a larger or high-resolution version.
Muslims in the U.S., Arab-Americans, Arab World culture and politics and Islam
Expertise:
Salah Hassan is an associate professor of English, and is also a core faculty member of MSU's Muslim Studies Program. His areas of research include literatures of empire and Arab North American studies. He is coordinator of Islam, Muslims and Journalism Education, and is an expert on Islam, Muslims and the Arab World.