Rufus Isaacs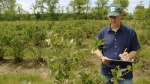 Click on the image to view a larger or high-resolution version.
Professor
Entomology
College of Agriculture and Natural Resources
Contact at: (517) 355-6619 or isaacsr@msu.edu
Expertise:
Research in my lab group is focused on the ecology and behavior of insects in perennial fruit crops. We study insects that are pests, natural enemies, and pollinators within these agricultural systems and in the surrounding landscapes. Current areas of research activity include mating disruption of grape berry moth, native plants for supporting beneficial insects, interactions between insect responses to conservation biological control and landscape structure, pollination in blueberry fields, and evaluation of new insecticide options.