Robert Drost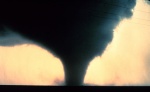 Click on the image to view a larger or high-resolution version.
Improving tornado warnings
Doctoral student
Geocognition Research Laboratory
College of Natural Science
Contact at: (586) 321-3072 or drostrob@msu.edu
Expertise:
Drost's research focuses on tornado warning systems and how people react to warnings. By working with scientists at the National Weather Service and National Oceanic and Atmospheric Administration, he's hoping to find better methods based on social, scientific and cognitive research that will cause people to react appropriately to storm and tornado warnings.