Robert Abramovitch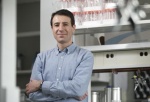 Click on the image to view a larger or high-resolution version.
Tuberculosis research and Drug discovery
Assistant Professor
Expertise:
Abramovitch is researching how Mycobacterium tuberculosis senses and adapts to environmental cues in the body. By disrupting the ability of the disease to adapt to its surroundings, Abramovitch believes it may alter the fitness of the bacterium and reduce its ability to invade the body.