Rebecca Jacobsen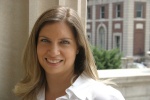 Click on the image to view a larger or high-resolution version.
Education politics, education policy, charter schools and school accountability
Associate professor and co-director of the Education Policy Center
Department of Teacher Education
College of Education
Contact at: 517-353-1993 or rjacobs@msu.edu
Expertise:
Jacobsen is an associate professor of teacher education and associate director of the Education Policy Center. Her background is in politics and education where she has focused on public opinion and its impact on education policy. She has also written about the politics of charter schools and the achievement gap. Her current work is on accountability policies.