Randy Beaudry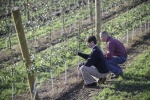 Click on the image to view a larger or high-resolution version.
Apples, harvesting, preserving and storing
Professor
Horticulture
Agriculture and Natural Resources
Contact at: (517) 355-519, ext. 1303 or beaudry@msu.edu
Expertise:
Beaudry's research activities focus on preserving the postharvest quality of fruits and vegetables. Specific areas of expertise include modified atmosphere packaging, controlled-atmosphere storage, non-destructive quality assessment, flavor analysis, apple scald physiology and use of volatiles to inhibit decay.
Additional information:
Dr. Beaudry is also responsible for organizing and conducting the annual Controlled Atmosphere storage clinics.