Peter Alegi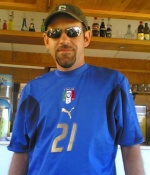 Click on the image to view a larger or high-resolution version.
Soccer, FIFA and global sports
Professor
Department of History
College of Social Science
Contact at: (517) 483-3993 or palegi@yahoo.com
Expertise:
Alegi is one of the world's foremost experts on soccer – both contemporary soccer (including FIFA and the World Cup) and the history of the sport. He has written and edited several books on international soccer. Alegi runs a soccer blog at http://www.footballiscominghome.info/
Additional information:
Author of "African Soccerscapes: How a Continent Changed the World's Game" (2010) and "Laduma! Soccer, Politics, and Society in South Africa" (2004; updated edition 2010).

Co-editor of two collections: "South Africa and the Global Game" and "Africa's World Cup: Essays on Play, Patriotism, Spectatorship, and Urban Space."